Holiday Rentals Outside Villages
Andalucia´s villages are some of the most charming in Europe, and make an ideal holiday destination for anyone seeking a rural retreat without being too isolated from shops, bars and restaurants. Often with striking hilltop positions from their Iberian, Roman or Moorish strategic origin, villages afford beautiful landscape views, and a sincere insight into traditional Spanish ways of life.
The properties on this page vary in style, some contemporary villas and others more rustic traditional homes, but each sit just outside a beautiful Andalucian village, within a few minutes´ drive to the centre (so a hire car is a must). They make perfect sports for families in particular to enjoy village life, but also to venture beyond and take part in sports, birdwatching, horseriding and countless other activities which capitalize on the natural parks and countryside of the region.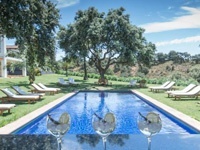 Set in the heart of Andalucia, surrounded by beautiful rolling hills. Inspired by African Lodges, this grand guesthouse resides in a 22 acre private estate. Ideal for peaceful retreats and private gatherings. Seven boutique rooms each with ensuite bathroom suitable for groups of six to fourteen guests.
Villa Nibo
Large, modern villa with open plan living spaces, minimal décor and beautiful marble bathrooms. Full modern amenities including air conditioning throughout. Garden set on multiple terraces, with palm trees, outdoor furniture, large private pool and spectacular views across the mountains of the Sierra de las Nieves Natural Park. Minutes from the charming village of Monda, just 14km from chic Marbella, and 38km from Malaga. Sleeps 8.
Cortijo La Hoya
Cottages in rustic traditional cortijo, or farmhouse. Quaint, period features throughout; kitsch décor and full kitchen amenities. Multiple sunny terraces and large pool with uninterrupted sea views. Minutes from white village of El Cuarton. A 10 minute drive to old fishing town of Tarifa, and 45 minutes from Gibraltar airport. Three homes each sleeping 2.
Villa Sol
Rustic holiday home with minimal decor, terrace with outdoor furniture and pretty flowerbeds. Barbeque facilities, children´s play area and private pool. Independent access and private parking. A few minutes to quaint and historic Lora del Rio, and just 50 minutes´ drive from Seville. Sleeps 10.
Villa Aynadamar
Magnificent lodge with ample period features, kitsch décor and balconies overlooking an indoor tree. Full modern amenities and entertainment including snooker table. Garden set out on multiple terraces with grand staircase. Outdoor seating and pool with mountain views over the Sierra de Huétor Natural Park. Minutes from white village of Viznar, and just 20 minutes´ drive from Granda city. Sleeps 14.
La Casita
Extremely rustic stone cottage with ample period charm. Wood paneling and vintage furniture throughout. Stone terrace with outdoor seating, and large raised pool. All nestled in leafy surroundings. A short drive, or even walk, of 1.5km to nearby Torres, at the edge of the Sierra Mágina Nature Reserve, and just 40 minutes to Jaen.
El Olmo
Quirky, retro bungalow with some rustic features. Full kitchen amenities. Private terrace with outdoor seating and roll-down canopies. Large private pool and sun loungers, with good sized garden. A few minutes from Posadas, right on the edge of the Guadalquivir River, and just 30km from historic Córdoba. Sleeps 20, but with multiple beds in 6 rooms, so could accommodate smaller groups.