Further Inland & Rural Coastal
A converted watermill, a restored farmhouse and a cave house - just a few examples of the rural self-catering accommodation available in this section. Traditional rustic Andalucian houses, often with their own pool and close to mountains, are an appealing option if you prefer to be independent and set your own holiday agenda.
With an authentic atmosphere, but recently renovated, these rural inland villas are well equipped, comfortable and private offering excellent self-catering accommodation. Several are close to the famous town of Ronda, dramatically set across its deep gorge, while others are set amidst olive groves or in other idyllic rural locations.
The Lodge Ronda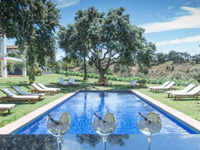 The Lodge Ronda
Set in the heart of Andalucia, surrounded by beautiful rolling hills. Inspired by African Lodges, this grand guesthouse resides in a 22 acre private estate. Ideal for peaceful retreats and private gatherings. Seven boutique rooms each with ensuite bathroom suitable for groups of six to fourteen guests.