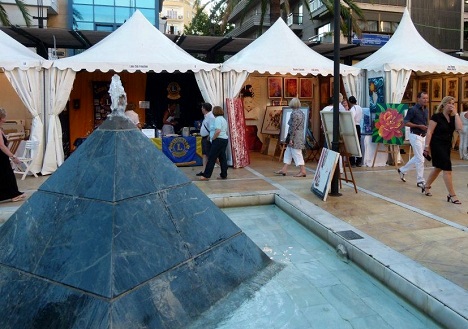 The Festival International de Arte Marbella was founded in 2009 by a dedicated group of Spanish and international residents. The festival was set up with the support of Marbella Town Hall, as a celebration of art in all its glorious forms, sizes and media. In the first years it attracted more than 20,000 visitors over 3 days. 
For three days and one evening around the 21st June each year , Marbella hosts a celebration of artistic talent, bringing together an immense variety of different nationalities; some Marbella residents and others from around the world - Spanish, German, Danish, Norwegian, British, Finnish, Ukrainian and Cuban, to name a few. Artists flock to Marbella in their near hundreds to display their art: a collection of varied artistic techniques including figurative and abstract painting, sculpture, ceramics, photography, murals, volumetric art, lithographs, collage, pencil drawing, graffiti, digital and textile art, uniting audiences through a shared passion for creativity.
From 2009 to 2013 the event tooks place in a series of casetas (tents) - set up on the Avenida del Mar in the centre of Marbella - which artists can either have on their own, or share with others. Each artist (or group of artists) displays their work in their own way, either hanging with chains and hooks, or on easels or stands. The event has an inauguration ceremony on the Thursday evening, where artists can invite guests to share drinks and canapes, whilst an opening ceremony takes place on the stage. After that evening, the event is open every day from midday until 11.30pm for visitors, collectors, tourists and buyers to admire, critique and purchase the artists' work.
Also at the event are a variety of local and international performance artists, including dancers, singers, dramatists and musicians, to entertain tourists and exhibitors alike throughout the long weekend. The show is also supported by various local restaurants and eateries, of whom some have stands and stalls to supply guests and artists with tasty morsels throughout the exhibition.
The 2014 edition took place at Villa Padierna Hotel.  It did not take place in June 2015 and, sadly is now discontinued.  
See also Art/Marbella.    

See also Expo 2016