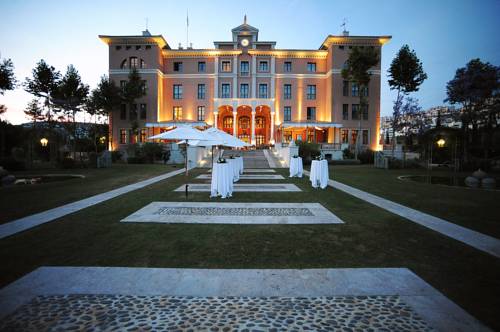 The stunning Villa Padierna Palace hotel
Villa Padierna Palace Hotel

Michelle Obama chose this hotel to stay in during her visit to Marbella in 2010. A grand Italianate palace decorated in classical style, with an elegant and exclusive air which attracts many other celebrities, it hosts the annual Starlite Gala charity event.
What's it like?
A complex of large, square, pink buildings modelled after a Tuscan palace, with Italianate decoration and landscaping - Roman columns, Grecian urns, marble statues; fountains, frescoes, tall cypress trees, amphitheatre - the hotel is situated just inland, in rolling countryside between the mountains and motorway to the north and the sea to the south.
The hotel offers 129 luxurious, ornate rooms, suites and villas in the main building and annexes; all have marble bathrooms, some with hydromassage baths, and high-speed internet; some have a balcony or terrace, while the suites (200m2) have two bedrooms with dressing room, a fireplace and terrace. One or two-bedroom villas (90/260/355m2), have a private garden with views of the amphitheatre, kitchenette featuring Nespresso machine, while the largest have three terraces and a private pool. Many of the artworks which hang around the hotel are originals, part of the collection of the owner, Ricardo Arranz - you can see 17th and 18-century sculptures, 18th-century Sevillian paintings, and 19th-century works by Malagueño artists.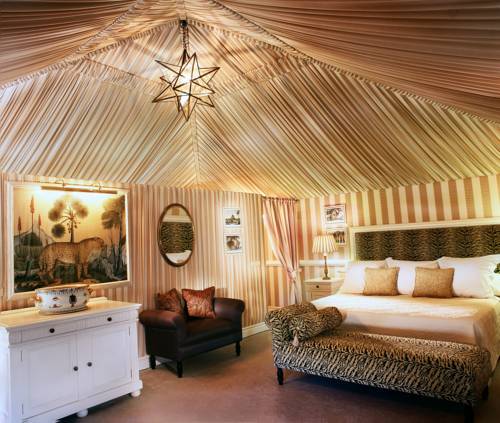 The tasteful, spacious rooms allow guests to feel at home
Appropriately for a Roman-themed hotel, the spa is called Thermae. It features the Costa del Sol's (and probably Andalucia's) only "thermal aromatic circuit", with four fragranced steam rooms, including Balinese (vanilla and coconut) and Indian (lemongrass, cinnamon and ginger); three saunas - Finnish (palm rose and lemongrass) and Greek (rosemary and thyme); an ice-cold plunge pool; and an indoor pool with water jets (extra charge for circuit). Spa treatments include hot stone therapy and world spa rituals featuring massages with crystals; you can also use the Jacuzzi, fully-equipped gym, chill-out area and pilates classes in summer. There's also an outdoor pool, but it isn't heated.
Beach bunnies will be pleased to hear that there's a summer-time beach club, with restaurant, café-bar, and a free shuttle bus service.
This being Marbella, a gastronomic haven, the restaurants include a three-Michelin-star one (the chef is a protégé of Martin Berasategui); the beach restaurant offers Mediterranean and Peruvian-Asian fusion. There's also an English bar and the poolside café serves cocktails.
What's its history?
The hotel is named after the owner's late father-in-law, the Count of Villapadierna (who once seduced Rita Hayworth). Arranz's wife, Alicia Villapadierna de Arranz, counts Marbella's royalty among her friends. Her mother was a pioneer of women's golf in Spain.
Villa Padierna, which opened in 2003, is a favourite celebs' haunt - and its status in the hospitality firmament was confirmed when Michelle Obama stayed here during her trip to Andalucia with family and friends in August 2010. It was already popular with Marbella-loving Hollywood stars, such as Antonio Banderas and Melanie Griffith, and Eva Longoria. Villa Padierna hosted the fist two editions (2010 and 2011) of the glamorous charity fundraiser Starlite Gala.
What is there to do?
As well as the swimming pools and spa, there are three 18-hole golf courses, plus driving range, academy and restaurant. Tennis and padel courts are also onsite.
The hotel is not in Marbella itself, so you need to drive or take a taxi to visit its famous shops and clubs. If you need to fulfil your shopping urges here, Alicia Villapadierna has a boutique with beautiful pieces from India, Turkey, Cambodia, Morocco and Nepal, many handmade from naturally-dyed cotton, linen and silk.
For children, Selwo Adveture Park is nearby, along with the other family attractions on the Costa del Sol.
Book Hotel Villa Padierna
How to get there
The Villa Padierna is located in Benahavis, next to Flamingos Golf Club. Leave the Carretera de Cadiz (A7 motorway) at km166.