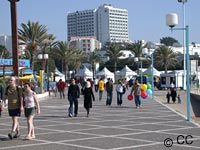 Agadir
Overview of Agadir
With over 340 days of sunshine a year, it is no wonder that Agadir, situated on the southern part of the Morocco's Atlantic coastline, has become the country's number one tourist centre. Some complain that Agadir is too modern and has become too commercial, but in a country full of exotic flavour it is a pleasant place to put your feet up and enjoy the comforts and services of a Western-style tourist resort.
The beach, together with the weather, forms the main attraction for thousands of sun worshippers, who come especially in the winter months to escape the cold and gloom of northern Europe. Around this, a resort town with restaurants, bars, cafés, modern, comfortable hotels and a broad offer of water sports has developed. Agadir thanks its modern look, with broad boulevards and pedestrian walkways in part to the rapid development of this tourist industry, but also to the powerful earthquake that destroyed much of the old town in 1960.
Sport
Besides sunbathing and water sports, Agadir also offers visitors golf courses, tennis clubs, horse riding and boat trips out to sea, where schools of dolphins and whales can be spotted.
Beachfront
In the evening, the beachfront comes to life, with crowds thronging the promenade lined with restaurants, cafés and music bars.
Harbour & Port
As the most important of Morocco's fishing ports, Agadir's harbour continues to bustle with activity as it has done for centuries. The fish market and the 16th century Portuguese fort are the popular attractions. The latter is the remnant of a prominent Portuguese trading post, Santa Cruz de Capo Gere.
Royal Kasbah
On first impression, the Kasbah looks uncannily like a fortress. In fact, that is exactly how it started out. In the 16th century, when the Berbers and Arabs were trying to drive the Portuguese out of the Agadir, they captured the fortified granary on this site and converted it into an artillery fortress from where they could shell the Portuguese fort. The views down to the town and bay are the best around.
Museum of Folk Art of Southern Morocco
Situated in the centre of town, in the municipal park, this little museum offers a fascinating insight into the culture and art of the Berbers, the original inhabitants not only of this region, but all of Morocco. Stretching back thousands of years before Islam arrived here, theirs is an ancient civilisation.
Excursions
With a position between Morocco's two main mountain ranges, the High Atlas and Anti-Atlas Mountains, Agadir is an excellent place from which to set out on excursions into the countryside. Imposing, snow-topped mountains, thundering waterfalls, tiny hamlets and expansive palm groves are among the many sights, not to mention seeing the Berber tribes in their home habitat.