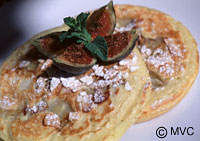 Moroccan Style Pancakes
Overview of Casablanca
Forever immortalised by the movie classic of the same name, Casablanca is Morocco's modern metropolis. Even though it is not one of the famous imperial cities, having grown in no time from a small settlement into a sprawling city of three million, Casablanca offers visitors an equally rare experience. Everything is bigger here: the streets, the hotels, the office blocks and the slums. The people themselves say, "Casablanca has no memory and no past, only a future." Even so, a rich heritage of art deco architecture fused with North African elements acts as a tangible reminder of its French colonial past.
Foreign rulers may not always have been welcomed, but they left a legacy of colonial architecture that beautifully captures an era and is now a rare and cherished cultural heritage. As such, Casablanca is becoming increasingly in vogue with travellers in search of an atmosphere and experience that is hard to replicate elsewhere.
Things To See
Hassan II Mosque
A new icon of Islam, this is a truly monumental mosque, with minaret of 200m-at the size of four football fields, it is the largest mosque outside Mecca.
Colonial City
Back in 1907, when this was a centre of French colonial influence, there were just 20,000 people in Casablanca. In subsequent years the city grew rapidly, owing much to impulses given by the French colonial administrations, as is reflected in the design of the boulevards, which all converge on a square called the Place des Nation Unies. The most authentic place to revive the feeling of French colonial Morocco is Le Petit Poucet, a real 1920s café.
Nouvelle Médina
This new souk is Morocco's most exclusive and elegant, with stone arcades, clean pedestrian areas and an unusual lack of being hassled.
Casablanca´s ladies
Old Quarter
The city's old quarter, by contrast, is an everyday outdoor theatre of life, where daily rituals are played out alongside the more unusual aspects of street life. Colours, scents and impressions take over the senses here.
Dining Out
As the most cosmopolitan city of Morocco, it is perhaps not surprising to find that Casablanca has a great offer of restaurants, from the small, informal eateries of the normal people to the grander affairs with an international reputation. One of the city's greatest culinary advantages, however, is its Atlantic seaboard, which yields a rich harvest of diverse fish and seafood.
A Turbulent Port
Today, Casablanca is above all a trading port and fishing harbour, but it once sheltered the Barbary Corsairs who tormented much of Europe. After sending large armadas to deal with the matter on several occasions, the Portuguese finally put an end to the Moroccan Corsairs by conquering Casablanca (and other ports), and it is from the name of their Casa Branca (White House) stronghold, that the name Casablanca is derived.