Overview of Meknes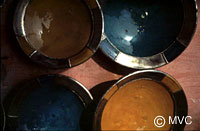 Ornamental Plates
Like a "fata morgana" (mirage) looming up out of the rock in the heart of the Moroccan countryside, the former royal city of Meknès is yet another unexpected delight this country has to offer. One of Morocco's most beautiful historical cities, its twenty-two kilometres of town wall, monumental gates and the ruins of an immense palatial complex form an impressive and curious backdrop for the meeting point of Morocco's main roads.
The 17th century sultan Moulay Ishmail wanted to create a royal capital here that would rival Versailles. He had an army of bricklayers, black slaves and several hundred captured Christian slaves build 120km of town wall, dream palaces, stables for 12,000 horses, hanging gardens watered by a 4 hectare pond and immense storage sheds. After almost a century of construction, he left one of the most beautiful cities in Moorish-Arabic style in the world.
Things To See
City Gate
With its intricate horseshoe shape and beautifully decorated detail, the Bab al-Mansour gate in Meknès is the most beautiful in Morocco-and one of the most iconic in the Muslim world.
Bab Al-Mansour Ruins
The ruins that surround the gate of Bab al-Mansour stretch out for miles along the town walls, watch towers and adjacent complexes that once formed the heart of the town's defences.
Heri es Souani
The ancient granaries and vaults that were once designed as a state-of-the-art project under imperial supervision may be overgrown with foliage, but they haven't lost their impressive architectural features.
Moulay Ishmail Mausoleum
The most famous leader of Meknès, and the creator of much of its architectural splendour, is revered and remembered in this stylish, solemn mausoleum.
Jamai Palace
Built as the residence of a vizier, this delicate palace within the town's medina (old quarter) now houses the fascinating collection of the Museum of Moroccan Arts.
Moulay Idriss
From Meknès, rolling green hills extend towards Mount Zerhon, where the holy city of Moulay Idriss lays perched against a slope. Famous for its green rooftops, it offers one of the most picturesque views of Moroccan town life.
Volubilis
A short drive from Meknès lays Volubilis, the most important Roman site in this part of North Africa. Built in AD 40, this formerly imposing and sophisticated Roman town, inhabited not just by Romans but also by Greeks, Berbers, Jews and Carthaginians, built its wealth and power on the wheat trade.