Overview of Dadés Valley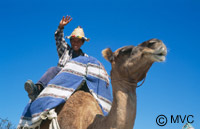 The Valley of One Thousand Kasbahs
A little north-east of the southern city of Quarzazate, lies the Dadès Valley-stretching out between the peaks of the High Atlas and the Jbel Sarhro mountain range. Known as 'The Valley of One Thousand Kasbahs', it is the most prominent of the oasis valleys that dominate southern Morocco. Originating from melt water high up in the snowfields of the Haute Atlas, the river Dadès cuts a steep gorge, known as the Dadès Gorge, at Aït Oudinar and Aït Ali. From here, it flows across the broad Dadès Valley in a south-westerly direction towards Quarzazate.
Traditionally, the people of this region lived in a large number of small Kasbah settlements scattered across the fertile river plain. In recent years, however, they have been leaving the valley and been congregating in larger villages along the valley's edge, leaving only a few Kasbah to be populated and maintained in perfect condition.
Kasbahs
There are many Kasbahs in this region; some alive and pretty, others impressive in their desolation, adding mystery to the exotic architecture and fascinating structure of society that has been in place here for thousands of years.
Berber Culture
As a Berber heartland, it is a centre of their culture, so besides architecture, food and crafts, the music, dress and customs are quintessentially Berber-including brightly coloured dress and ornamentation for women and girls, as well as the heavy dark blue cotton haiks (cloaks) of the region.