Overview of Tetuan
Whereas the coast gets dry in summer, the capital of the Rif Mountain region, Tétouan, lies in the cool valley of the "Wadi Martil", just kilometres inland from the Spanish coastal enclave of Ceuta. Formerly the capital of Spanish Morocco, this pretty city has a tangible connection with Andalucía: balconies and windows framed by iron grilles, shaded squares and patios with refreshing Moorish-Andalusian fountains, white plasterwork and flamenco.
This connection is accentuated by the fact that many of the Moriscos, expelled from Spain by King Felipe IV in the 16th century, settled here. The extent to which their descendants are still nostalgic about Andalucía is borne out by the 400-year-old tradition in which the keys of homes left behind in Spain are still passed on from generation to generation, yet the locals have recreated the beautiful Hispano-Moorish architecture of old in this charming capital of northern Morocco.
Things to See
Khalif's Palace
The old palace of the Khalif also served as the residence of the King's representative during the time of the Protectorate, when Tetouan was the capital of Spanish Morocco.
Gateways
Seven magnificently sculpted gateways offer not only a visual delight, but also a variety of ways to breach the age-old ramparts and enter the town from different angles.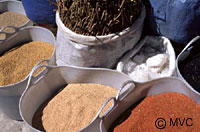 Market Produce
Kasbah
Dating back to the 14th century, the Kasbah of Tetouan is a particularly good example of a Middle Eastern covered market place whose maze of stalls produce sights, sounds and scents that are inextricably part of the Moroccan experience.
Old Quarter
The maze of alleyways and cobbled streets, with their blue-tainted whitewashed houses, remain among the most enchanting of Tetouan's sights. In places is this quintessentially Moroccan feature more alluring.
Museums
The Archaeological Museum and the Ethnographic Museum, both located in grand old buildings, offer an insight into the many different people who have inhabited the country over the ages, and the typically Moroccan traditions that have evolved out of this.