Overview of Marrakech
Marrakech is arguably the best imperial city to visit. Called the Red City on account of the original clay colour of the houses. Once on the hippy trail as the song confirms but not on the itinerary of the backpacker and discerning traveller alike. The Djemaa el Fna square is one of today's tourist marvels.
The city was founded a thousand years ago under the Almoravid dynasty but was destroyed and rebuilt in the 12th century by the Almohads, who built the Koutoubia Mosque and landmark minaret.
Things To See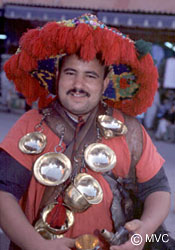 Marrakesh Market Water Carrier
Djemaa el Fna
See contemporary life in this market place. Acrobats, jugglers, storytellers, fire-eaters, snake charmers, fortunetellers. This is where Marrakech converges. Wander around and be amazed. It gets more crowded at dusk when the best photos can be taken. Take a drink in one of the rooftop cafés that overlook the square. Sit on a wood bench and take in the atmosphere, smoke and smells of this exotic place.
Souk
North of the Djemaa el Fna square, you can wander through the maze of craftsmen and little shops. Each neighbourhood has its own trade, spices and handicrafts.
Koutoubia Mosque
The Minaret is a landmark that towers over the town. It is one of three built by Sultan Yacoub el Manour. The others are in Rabat and Seville, where it is now known as the Giralda.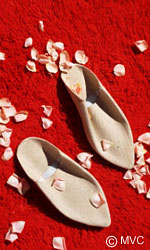 Moroccan Slippers
El Bahia Palace
This grand palace was once the gardened residence of a grand Vizier. The ornamentation, in traditional style, is suitably splendid everywhere.
Dar Si Said Museum
Built by two brothers, this palace houses a museum of Moroccan art, with a large collection of Berber artefacts, jewellery, costumes, pottery and carpets.
Saadian Tombs
This is the elegant 16th century necropolis of the rulers of the Saadian dynasty. Demolished by Sultan Moulay Ismail, it was rediscovered in the 20th century. The amazing architectural detail includes beautifully vaulted ceilings. A royal pantehon of a distant age, it contains the tombs of Sultans and princes.
Menora Garden
One of Morocco's most famous and enduring sights. The iconic rectangular pool irrigates ancient olive groves, while the pavilions near it were added in the 19th century.
Agdal Gardens
400 acres of citrus and orange groves, with a boating lake at the centre, which feeds irrigation channels for the surrounding orchards.
Oasis Aiea
On the northern side of Marrakesh there is a huge palm grove with over 200,000 palm trees. Developments of luxury villas are now slowly encroaching on this area.
Transport
Train
Train to Casablanca
Airport
International Airport. Direct flights to London, Paris, and Frankfurt. New York (once a week). Frequent flights to Casablanca.