Local Materials: Your Andalusian-style Building Blocks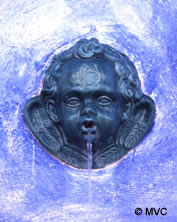 Andalucian Ceramic Fountain
At first glance it might seem that there is little variety of building materials available at your local "bricolage" - or building supply - centre. Ceramics, bricks, plaster, marble, granite and iron predominate. Get a little closer though and you will realise the infinite possibilities they offer the creative home decorator - and often at reasonable prices.
Ceramics
Ceramic tiles serve both practical and decorative functions in Andalucía. No matter how beautiful they might be, they will also keep your house cool during hot summers. You will find a seemingly unlimited array of choices at local retail outlets ranging from hardware stores, building supply centres, specialised kitchen and bathroom shops and the warehouse-style stores located in industrial parks (polígonos industriales, in Spanish). Prices vary widely, so shop around and pay special attention to the industrial areas if you're hoping for a bargain.
Andalusians put tile to use on both floors and walls. You will find brilliantly designed patios that are decked out in ceramic right down to the fountain and star-shaped tray at its base. Tiles are also used to save energy and water by turning a garden into a charmingly tiled extension of the home. However, while this looks very nice, it can actually raise the temperature in the summer if the tiles are not shaded by awnings or plant-covered trellises.
Another practical use of decorative tiles is to cover any garden wall that has damp problems - i.e. one that has contact with earth on one side. This will save you from needing to scrape and repaint every year.
Finally, anyone with allergies to dust, dust mites or moulds will appreciate a decorating scheme that features the use of tiles. Switching from carpet to tile is enough to convince anyone that the latter is superior in terms of hygiene. You can scour your beautiful new floors - and tiled walls - with ammonia to banish bacteria and mould spores and leave surfaces clean, polished and as bright as new.
Ceramic accessories are available for every corner of your home and garden as well in the form of murals, letter boxes, light fixtures, candle holders, beautifully glazed pots, picture frames, a wide variety of dishes and kitchen and bathroom accessories.
Brick
Bricks are literally the building blocks of local homes, but they also serve a decorative purpose. Visit home building supply centres and general construction supply outlets to find a variety of designs which can be combined to create garden walls. Glass bricks are popular for use in homes to let light in while blocking unwanted views.
Plaster
Plaster is used to create ceilings and also decorative pieces to adorn them. You can also acquire plaster designs for use on walls, around windows and over doors at any large home centre or other building supply outlet.
Marble & Granite
Expect to find good quality Spanish marble and granite at reasonable prices as compared to imports. Marble floors and granite countertops are another staple in the Spanish building industry and can add an Andalusian flavour to your home decoration.
Wrought Iron
The iron you see in the form of grates that protect windows and doors is just the beginning.