Albolote is a village of Nasrid origin (the Muslim dynasty that occupied Granada the 13th to 15th centuries, and built the Alhambra), but remains of Palaeolithic and Roman settlements have also been found here. Its rich landscape is dominated by the Sierra Elvira Mountains, offering yet more interesting routes to take when exploring this village.
main sites
The most important archaeological sites in Albolote are situated around Pantano de Cubillas; here you will find the remains of three Roman villas and a road. El Torreón, an 18th century watchtower in the mountains, is a must-see monument; in addition to its historical significance – as a lookout point to search for raiders and pirates - it possesses spectacular panoramic views of the surrounding area. In the village itself, you should visit La Iglesia Parroquial de Nuestra Señora de la Encarnación, a 16th century mudejar church and now a National Monument.
There are many opportunities to enjoy nature in Albolote, whether it's hiking around the surrounding area or enjoying activities and excursions at Cortijo de Marqués, a rural hotel.
GASTRONOMY
The Muslim origins of the village continue to influence the gastronomy in Albolote. Traditional dishes include arroz con conejo (rice with rabbit), ensalada con hortalizas (salad with fresh home-grown vegetables) and las gachas (oatmeal porridge).
FIESTAS
The most important fiestas or celebrations in Albolote are in August, in honour of Cristo de la Salud. In February the whole village travels to the old watchtower (El Torreón) to commemorate el Día de la Candelaria (Candlemas or in America Groundhog Day). In May, together with many other villages in Granada, Albolote celebrates el Día de la Cruz; the entire village is decorated with flowers.
DIRECTIONS
Albolote is 12km from Granada city, and can be reached directly via the A-44.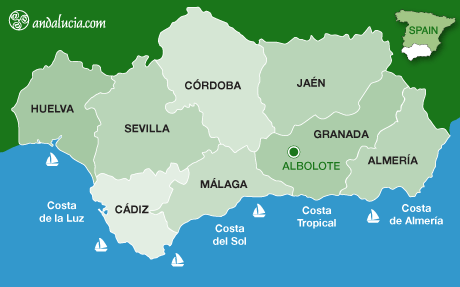 Destinations