Located close to Granada City, Maracena is a predominantly agricultural village. Historically, Maratiena, as it was then known, was an important Roman settlement; it continued to be so during the Moorish era, when it was known as Marasana.
Today, the most important building in Maracena is la Iglesia de la Encarnación, a church established in the 16th century by the Catholic Monarchs (Isabella and Ferdinand). In the 18th century it was refurbished and a tower was added. Its wooden framework and splendid altar make it a great example of Moorish architecture.
GASTRONOMY
In order to experience the typical diet of the maraceneros, you should try popular recipes such as: gachas de mosto (porridge with grape juice); migas de maíz (a dish made with breadcrumbs, olive oil, garlic, sweetcorn and other ingredients); and olla de garbanzos (chickpea hotpot).
FIESTAS
Important fiestas in Maracena take place across the year. In May, they celebrate la Fiesta del Día de la Cruz, and in March, Carnaval. In January, Maracena celebrates la Cabalgata de los Reyes Magos and la Fiesta de Fin de Año.
DIRECTIONS
Maracena is 8km from Granada city. From there, take the A-44 (Direction Jaén), then take exit 125 to join the A-329. Then take the N-432 and once you pass el Camino de la Torrecilla, you'll have arrived in Maracena.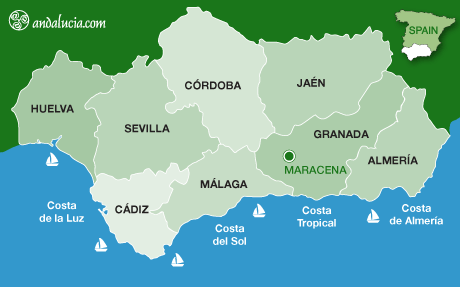 Destinations