Guéjar Sierra
Güéjar Sierra is a village in Granada province located in the Sierra Nevada National Park. The many popular walking or hiking routes across the mountains start from here. People often choose to spend their holidays in Güéjar Sierra because and the outdoors sports that are available in the vicinity.
The area dates back to the roman times, however the village itself originates from the arab-dominated period, when its inhabitants produced silk.
This mountain village, which is located on the nort-east side of the Sierra Nevada Natural Park, is divided into three neighbourhoods. The most eye - catching building is the Iglesia Paroquial de Nuestra Señora del Rosario, built in the XVI century. It was built over the ruins of a temple which was constructed a century before by the Moors.
The old Sierra Nevada Tram Station is a very well-known location by the inhabitants of Güéjar Sierra, which was in use between 1925 and 1974. The tram connected Granada to Barranco de San Juan and the journey offered fantastic views with many bridges and tunnels.
Location
Güéjar Sierra is 16 kilometres away from the city of Granada by the motorway to Sierra Nevada. Once you have passed Pinos Genil, the A-4026 intersects the GR-SE-53 which will take you there.
Hotels

Hotel Rural Mirasierra
Situated at the head of the park´s most picturesque valley, the hotel Mirasierra was recently constructed and designed to blend into the surrounding countryside. It offers bike rental and various hiking routes, as well as easy access to the Ski Resort.
Apartments in Güéjar Sierra tend to consist of either simple, rural apartments or small houses as well as more modern offerings in small apartment blocks. These Sierra Nevada apartments in Güéjar Sierra offer short term as well as long term stay options.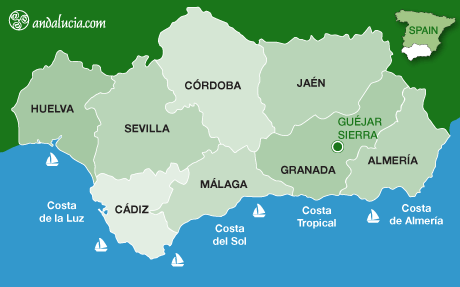 Destinations