MONACHIL
By Kevin George Monterrubio
Monachil is a village in Granada province within the Sierra Nevada National Park and location of the Sierra Nevada Ski Resort, the southernmost ski resort in Europe. It is also popular with nature lovers as well as skiers and snowboarders.
It is located in the Vega de Granada area, only 8 km from the Granada city.
Near the village we can find one of the most famous hiking trails, known as "Los Cahorros" or Desfiladero de Los Cahorros. The track runs along the river Monachil, winding between beautiful rock formations, crossing a 55m chain bridge.
Route through the hanging bridges of Los Cahorros in Monachil, Granada
Route through the hanging bridges of Los Cahorros in Monachil, Granada
Los Cahorros is a highly appreciated route among hikers, who have found a natural paradise on this site. In most of the villages of the Sierra Nevada National Park, hiking is often practiced, Monachil being one of these routes, which for its great beauty and easy travel, is ideal to make it with family, earning a prominent place. It is a donda route that will have to cross beautiful hanging bridges to discover what hides this special tour, as well as its incredible views, waterfalls, natural pools made of rock, caves and narrow tunnels. This path will take you through some of the most spectacular landscapes of Andalusia.

CAVE HOUSES
You can enjoy lunch inside a cave restaurant or even stay in a cave house.
THINGS TO SEE IN THE VILLLAGE
Iglesia de la Encarnación
In the village there are some interesting buildings such as the "Iglesia de la Encarnación", founded in the year 1501.
Convento de los Padres Agustinos Recoletos, in the Monachil neighborhood, which was built at the beginning of the 20th Century and was initially a fabric factory. Also called Nuestra Señora del Buen Consejo.
Casa del Molino
The Casa del Molino, an old stately home from the year 1450 which has a beautiful backyard.
The river Monachil runs through the village. Some restaurants have a terrace next to the river, where you can enjoy a relaxing drink.
THINGS TO SEE OUTSIDE THE VILLAGE
Cerro de la Encina
There is an archaelogical site called "Cerro de la Encina", from 1450 BC, considered one of the most important archeological sites of the Iberian Peninsula belonging to the Argaric age. Some of the remains found in the excavations carried out here are now exhibited in the Archaeological Museum of the Province of Granada.
Jardín Botánico de La Cortijuela
This botanical garden houses more than a hundred of the most representative species of plants of the Sierra Nevada National Park. You can reach it through a pedestrian path that starts at Fuente del Hervidero and crosses interesting places such as the Puente de los Siete Ojos.
MOUNTAINS
In the whole of the municipality of Monachil, there are three natural areas: the high mountain with peaks higher than 2000 meters, the middle mountain, which offers a great landscape diversity, and the lowest area in the that is its fertile valley floor with lands of cultivation.
HANDICRAFTS
The traditional handicrafts in this village are pottery, esparto and traditional marquetry.
GASTRONOMY
And anyone who wants to taste the delicacies of the monachileños cuisine, will have to try the olla de San Antón, cazuela de verduras, habas con jamón, migas, cerezas, roscos de vino, arroz con leche, carne de membrillo and tortas de chicharrones, de manteca, and rellenas de cabello de ángel. Its sloe liquor is also very much appreciated. If you are looking for a restaurant in Monachil or surroundings, see our restaurants guide.
FESTIVALS
In Monachil's calendar we can find numerous celebrations like: San Antón, in January; San José, in March; Virgen de las Nieves, in August, with its nocturnal procession; Virgen del Rosario, the last Sunday of August; and San Marcos, in April. Easter week is also celebrated in this village with the traditional processions on Wednesday and Friday.
LOCATION
The village of Monachil is located 8 km from the city of Granada, driving on the road GR-SE-17.
NEXT VILLAGES
Neighbouring villages are Huétor Vega, Cenes de la Vega, Pinos Genil, Guéjar Sierra, Dílar, La Zubia and Cájar.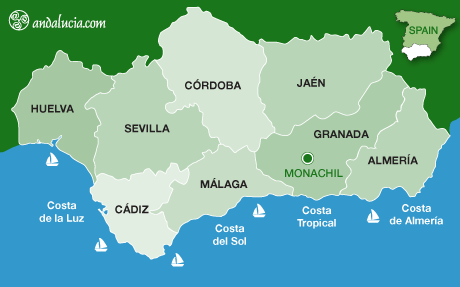 Destinations