La Zubia
La Zubia is a village in Granada province within the Sierra Nevada National Park, and known for its impressive natural setting as well as its historical and artistic heritage.
Being part of the National Park of Sierra Nevada, the area is very popular amongst nature lovers for its incredible views.
The old part of the town is dotted with fabulous historical buildings which have become a tourist attraction in their own right. There are many sites which evidence the different civilizations that have inhabited Andalucia over the years.
Amongst all the different architectural styles of buildings, the Arab baths of La Zubia are located in the area known as House of the Fear, they are in a reasonable state of conservation, showing Muslim vestiges dating from XII and XIII century. They are housed in a rectangular building with several rooms, including two eight meter high parallel sections covered by tube shaped vaults and starred lights.
Hotels

El Balcon de las Nieves
At 1250 metres altitude and with spectacular views of the monumental Granada, this hotel is ideal for ski season stays, with its cosy lounge and fireplace. In the summer you can enjoy its swimming pool with terrace. Rooms are well-decorated and comfortable.
Other highlights of this municipality include the Convento de San Luis, (which was built at the orders/request of Queen Isabella I of Castile in the XV century); the Iglesia Paroquial de Nuestra Señora de la Asuncion and the Arzobispal Palace.
Places valued by the locals of La Zubia are the 700 year old Encina Park, or the caves Moro y Paloma where traces of prehistoric life can be found. Both are located in the Barranco de Corvales.
Location
La Zubia is only 5 kilometers away from the city of Granada by the motorway to Sierra Nevada, A-395.
In terms of places to stay in La Zubia, there is a varied choice of short and long term accommodation. When it comes to Sierra Nevada apartments, La Zubia offers villa-like apartments with communal pools, apartments in mini apartment blocks, modern or rustic, rural-style apartments and apartments in historic buildings.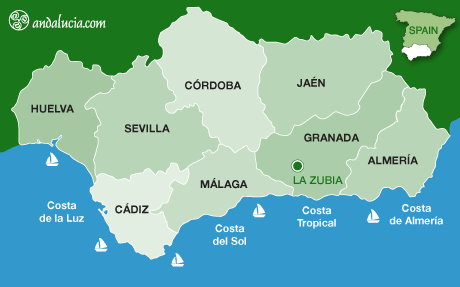 Destinations