Serrania de Ronda - Boutique Hotels
A selection of hotels which are generally defined as small and luxurious. The exclusive, luxury aspect of these hotels implies a focus on tranquillity and intimacy, as well as pleasing decor and style, with each bedroom individually decorated.
Moreover, boutique hotels are renowned for offering great attention to detail, both personally in terms of service for the guests, and with the rooms they provide. Outside of the unique design and character of these hotels, their location generally reflects part of their offering.
The following boutique hotels are selected from our affiliate partners.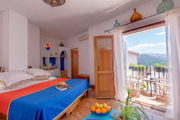 Los Castaños
Located in the middle of a small village, this boutique hotel has lots of character. You can soak up the Spanish sun on the roof terrace and refresh yourself in the paddling pool. Experience authentic Andalusia in the remote white village of Cartajima.