Serrania de Ronda - Rural Hotels
This page details various Rural Hotels, Guesthouses and Bed & Breakfasts in the Serrania de Ronda. Ideal for an 'away from it all break', this section offers a list of rural accommodation as well as links to other pages of specific inland hotels.
Whatever your choice, these rural hotels will definitely help you to 'get away from it all'.
The following rural hotels are selected from our affiliate partners.
Hotel Banu Rabbah
Surrounded by chestnut and oak trees, this hotel is located just outside the village of Benarrabá in the province of Malaga, allowing you to stay in peace and stroll through the charming village streets. Banu Rabbah is housed in a building that has been built to blend with its charming surroundings.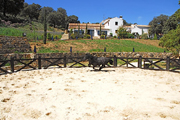 Los Pilares de Ronda
Los Pilares de Ronda-Antigua Finca Los Pastores is surrounded by 1.000 hectares of holm oak forest and has pretty gardens and terraces, which offer fantastic views. The on-site restaurant serves homemade dinners, using local and seasonal products. It offers charming interiors with WiFi and has its own horse ranch, riding school and 2 swimming pools.