Aerotech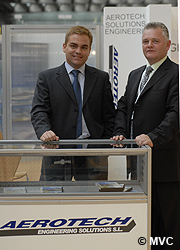 José M. Castañeda and Allan Barrett
Aerotech was founded in Spain to offer engineering services, consultancy and equipment provision for the aerospace industry The company specializes in avionics test systems and engineering and equipment supply. There are three distinct product ranges.
Data bus analysers: In joint-venture with Generic Software Solutions, Aerotech has developed state of the art data bus analysers to be used during the design, development and integration of aircraft avionic systems. The software is MultiProtocol Databus analysis software to analyse the correct data on the data buses. The Equipment can analyse many different types of data buses such as MIL-STD-1553, ARINC429, 3910, EFEX, AFDX. It will be compatible to test the A400M's databuses.
Hardware Interface Cards: Aerotech supply data bus hardware interface cards to communicate with avionics that are produces by Aerotech World Trade Ltd of UK. This capability will be transferred to Aerotech S.L. in the coming months. These are ATT Avionics Data bus Interface Cards, Handheld Analysers & Protocol Converters,.
Aeroform Composite:sn partnership with Aeroform Ltd, Aerotech supplies equipment and systems for composite materials manufacture and repair. Aeroform is a leading manufacturer specialized in equipment for production and repair of carbon fibre composite materials. Products include: autoclaves, ovens, hypobaric chambers, process control software. Clients include Airbus, BAE Systems and McLaren.
"We are pioneers in Spain in the development of software and hardware to analyse, test and simulate avionic data-busses; it is very positive for Andalucía to have a international leader in this field." Stated Allan Barrett, General Manager.
"Our support for R&D permits us to be providors of high added value products which at the same time contribute the the technological development of the region and the creation of high qualified employment " added José M. Castañeda Santana, Hardware Support Engineer.
Aertec is a new dynamic company, founded in Seville in 2005 and currently employees 6 people. The parent company in the U K is Aviquipo UK Ltd an electronics company which was formed in 1943.
Aertec believes it offers an unique service in Spain.
Aerotech Engineering Solutions SL.
Avda Inovacion s/n
Edificio Renta Sevilla 6A
Sevilla
41020
Tel: 954 515 836
Fax: 954 515 843
www.aerotech.es