NAVAIR
Alberto Simon Zambrano
Navir specialists in Aviation equipment for the defence industry were founded in 1993 and were first company to be based in Aeroplis the purpose built industrial and technological park for the aerospace industry in La Rinconada, a few kilometres north of Seville.
The company specialize in three fields, cabling, mechanical equipment and fixing tools and systems. It has 66 clients in six countries including, Brazil, Portugal Greece, Spain, France and the USA. 80% of the companies sales is international and the remaining 20% is sold in Spain
The company has undergone rapid expansion increasing its workforce. "In 2005 we were 14, 33 in 2006, and for 2009 we will have to be 160 employees" stated Alberto Simon Zambrano, Director General of Navair.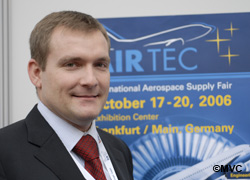 Jacques Petit
Navair are expanding internationally and recently Jacques Petit has been appointed to head their international sales department and has just opened a new office in Mexico City.
"The new office in Mexico hill serve to cover the markets and the contracts that we have in the USA and in Brasil. So from there we will be able to cover North and South America" stated Jacques Petit.
Navair SL
Parque Aeropolis
Calle Juan Olivert 22-26
La Rinconada
413009
Seville
Tel: 954 915 646
Fax: 954 915 353
www.navair-sl.com