Industria Especilizada en Aeronautica SA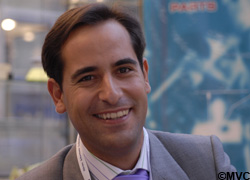 Antonio Ramirez Garcia
INESPA was founded in Seville in 1986, the company is dedicated to the design, manufacture and Assembly of tooling, aeronautical parts machining and mounting of assemblies.
Its clients are in both the Aeronautical and Automotive industries.
It currently benefits form a 6300 m2 factory at Aeropolis and is proud to be the third company move in to the business park.
Its clients include EADS-CASA Airbus, Boeing, Sacesa, and Renault.
It is certified to ISO 9001 and 9100
On the famous A380 project Inespasa constructs the assemblies of fittings to the landing gear hatches.
"Andalucia had a good future for the aerospace industry, we are all looking forward to the arrival of the A400" said Antonio Ramirez Garcia, Engineering and design manager. [email protected]
Miguel Garcia Mesa Head Designer agreed "The A400M is important, when the plane is first flown out of Seville it will be very good for the image of the region.." he added
"Like everybody we are concerned about Airbus financial problems and cutbacks that are in the news at the moment."
Inespasa has formed a strategic alliance with MEUPE for p roduction and components and with AEROSUR for Engineering and components, structural assembly.
Inespasa
Parque Aeropolis
Calle Ing. Rafael Ribio Eloza
Parcela 41
La Rinconada
413000
Seville
Tel: 955 343 000
Fax: 955 343 003
www.inespasa.com