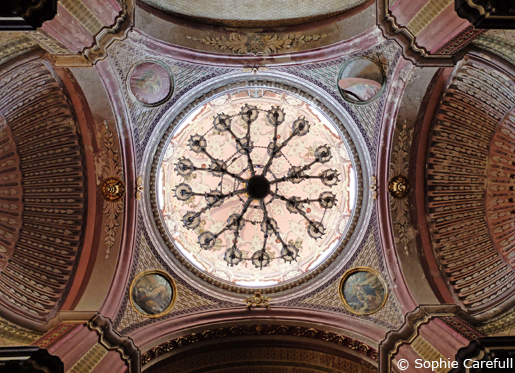 The beautiful ceiling of San Mateo church in Tarifa.
Iglesia de San Mateo
The magnificent church of San Mateo is the main church in Tarifa, located in the centre of the old town on Calle Sancho IV el Bravo. All the town´s big weddings and religious festivals are held here.
The church has a striking 18th-century Baroque facade, the crumbling stone of which stands out from the whitewashed walls of Tarifa. The belfry, painted salmon pink and decorated with Tuscan pilasters and a hemispherical dome top, is one of the most distinctive features of the town´s skyline.
The interior of the church is a much earlier Gothic construction from the 15th century, with beautiful rib-vaulting in the nave. Look out for the Visigothic tombstone, which dates from the 7th century, and is a testament to Christian worship in Tarifa pre-dating the Moorish era (following the invasion of 711AD).
One corner of the church opens up into the sagrario (shrine), which contrasts entirely with the sturdy stonework elsewhere; here, the interior is a display of Baroque theatrics. Dusty pinks and violets dominate, and the central chandelier hangs from a sunlit copula decorated with plaster cherubs.
Built not long after the Catholic Reconquista of 1492, the church is a grand assertion of Catholic ideals. The many cedarwood sculptures of Biblical figures are fine examples of Catholic iconography, many with lifelike details and all dressed in beautifully sewn clothing. The sculpture of San Mateo (St Matthew) is by the renowned Martinez Montañez - the Baroque master widely regarded as the ´dios de la Madera´ (God of wood). He has many works in Seville cathedral, in the same city where he spent most of his career.
The church welcomes visitors, and provides handy leaflets in English and Spanish to explain its history and features in more detail.
Destinations