Santuario de la Virgen de la Luz, Dehesa de la Carihuelas, Tarifa
by Chris Chaplow
According to legend, the Santuario de la Virgen de la Luz was commissioned by King Alfonso XI to commemorate the victory over the Moors in the Battle of Rio Salado in 1340.
The church is located in the Dehesa de la Carihuelas, around 10km from Tarifa, in the Parque Natural de los Alcornocales. The building has a Latin cross plan, made up of three naves and a chancel. A very pretty cobble-stone cloister with central fountain, geraniums and mature poinsettia trees was a later addition to the church and has small cells, originally living quarters for the monks. On the courtyard walls, you can see old photos of notable events. The image of the Virgin, which was made in the late 16th or early 17th century, sits in a glass-fronted room behind the altar.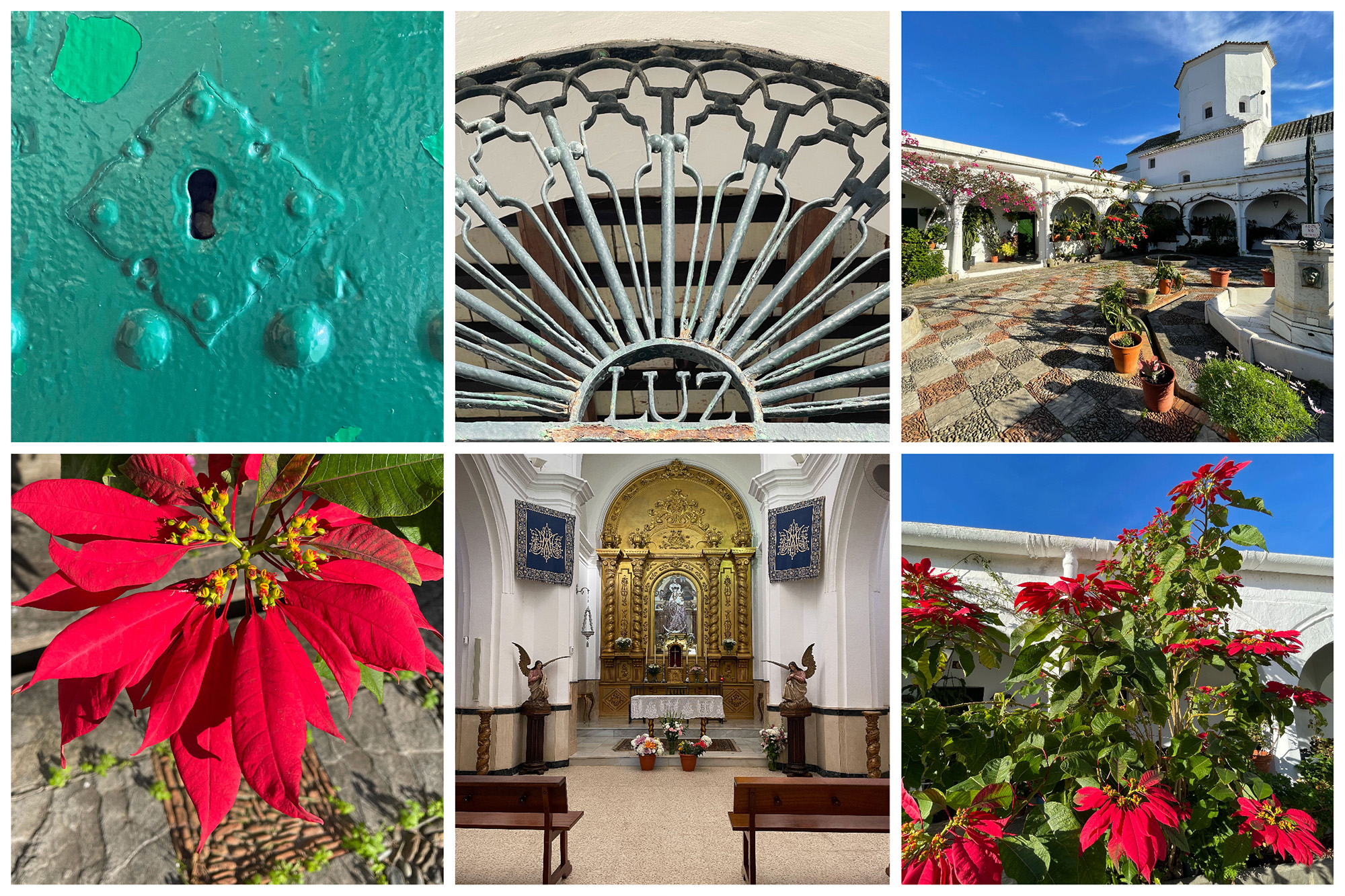 Sanctuary de Nuestra Señora de los Santos near Alcalá de los Gazules also has a connection with the historic Battle of Rio Salado (1340), in which the army from Alcala asked for God's protection.
When you go into a Catholic church in Andalucia, you may see a tiered stand of lit and unlit tapers, sometimes tea lights or larger candles in red, white or blue. After making a small donation or purchase of a candle, any visitor, whether Catholic or not, can light a candle to mark their thoughts, wishes or prayers. The flickering flame symbolizes the ongoing nature of the prayer, even after the person who lit the candle has left the sanctuary. Candles are often lit for loved ones who have passed, in gratitude, for a personal request, or any other intention. This church has a dedicated area for candles, a place of peaceful contemplation for locals and visitors to the site.
In the wooded gardens of the sanctuary are picnic tables, making it a pleasant location mid-week or weekend. Facilities at the church include a shop for candles and other religious books and relics, a fountain, and well-maintained public toilets.
Pilgrimage of the Virgen de la Luz
The saint's festival is celebrated throughout September with a number of events, starting with a popular procession, the Cabalgata Agrícola (Farmers' Procession) of Tarifa, dating back to 1914. On the first Sunday of September, the Virgin is taken from the sanctuary in Carehuelas 8km to San Mateo church in Tarifa town, accompanied by hundreds of pilgrims on horseback. This coincides with the start of the Tarifa's feria; during the celebrations, other events to honour the patrona take place, including a procession on the second Sunday. On the fourth Sunday, she is taken back to the sanctuary in the Romería, accompanied by many locals and visitors.
Opening Hours
Summer 09.30 to 14.30 and 17.30 to 21.00
Winter 09.30 to 14.30 and 15,.30 to 18.00
Admission
Free
Location
Turn off N-340 at km 81.5 to the north of Tafifa. Drive 6km along CA-9210 to the Santuario de la Virgen de la Luz
Destinations