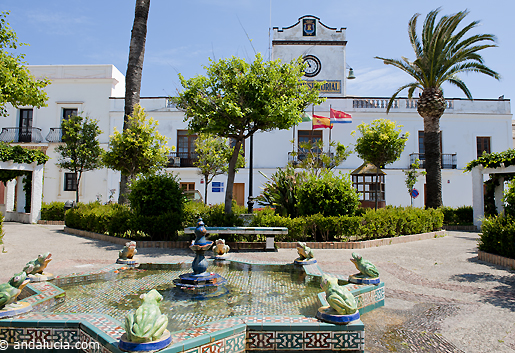 The Town Hall and the famous little frogs on the fountain.
Plaza de la Ranita - little Frog Square
This central plazain Tarifa town has three names. Officially called Plaza de Santa Maria, after the church on one corner, its older name of Plaza Alfonso XII is still on the wall. However it is known locally as Plaza de la Ranita, or Little Frog Square, thanks to its unusual star-shaped fountain featuring eight ceramic frogs, one on each point, and a very Moroccan shade of turquoise. The frogs are similar to those on the fountain in Plaza de España in Vejer de la Frontera.
Just to make life interesting, this plaza has three names. Here are two of them.
The attractive town hall is located on the south side of the square, pristine white thanks to a recent renovation. The old clock on the façade looks impressive but no longer tells the time, while the original town hall name 'Casa Consistorial' is embellished in blue and yellow tiles.
On the east side is Colegio Cervantes, in early 20th century neo-mudejar style with Arabic arches and turreted towers and walls.
The Municipal Museum is located on the west side of the square. This white 8th century building, which was originally the Casa del Posito or Grain Store, has an impressive stone relief doorway. Although there is a door marked to the museum, it cannot be accessed from the square, only from inside the Castle.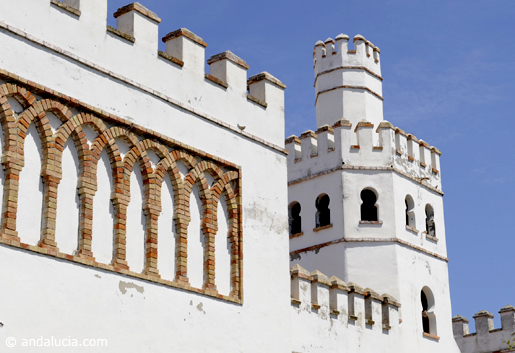 The library and the historical archive are housed in this building.
In the south-west corner of the square is the 14th century Gothic-Mudejar Iglesia de Santa Maria. Except for special occasions when the big gate is opened, the church cannot be accessed from the square; like the museum, you can only enter from inside the Castle. Iglesia de Santa Maria has been recently fully restored and a glass floor near the altar reveals Roman walls.
On the north side, walk down pretty steps known as Calle Almedina, pass the night-time café bar of the same name and into the centre of the old town.
Parking in this square is impossible - you can just about drive round in an anticlockwise direction -so either park in the port area or on Plaza Miramar and walk up Calle Aljaranda past Miramar Gardens along Calle Amargura into Plaza de la Ranita.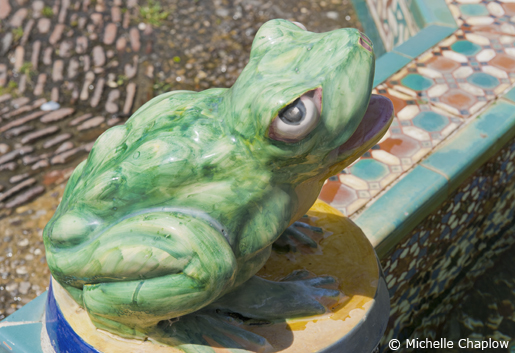 One of the frogs which give this pretty square its local nickname.
Destinations