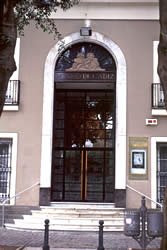 Fine Arts Museum
Cadiz Museum - Museo de Cadiz
The origin of the current Museum of Cádiz begins with the Confiscation of Mendizábal in 1835 and the deposit of a series of paintings from various ex-cloistered convents in the Academy of Fine Arts of the city. Among these works was the Zurbarán series from the Cartuja de Jerez de la Frontera.
Meanwhile, around the Academy of Fine Arts, throughout the nineteenth century, a nucleus of works from the flourishing Cadiz school of painting were gathered together, with the final echoes of neoclassicism, romanticism and the painting of history.
The Museum has known several venues over time, such as the Callejón del Tinte or the Paseo de Canalejas, and was definitively established in the Plaza de Mina building in 1935, occupying only the ground floor and sharing Headquarters with the Academy of Fine Arts.
However, the Archaeological and the Fine Arts were constituted as separate museums, with different directors and personnel. In 1970, both institutions merged into the current Museum of Cádiz, also including an Ethnography Section. Starting in 1980, a substantial reform began in the building by the architect, Javier Feduchi. Two phases of this Master Plan have already been carried out, with a third pending.
Opening
Tuesday to Saturday 09.00 to 18.00 hrs
Sunday and Holidays, 09:00 to 15:00 hrs
Admision 1.50 €
Contact
Tel: 856 10 50 34 or 856 10 50 23
Location
Plaza de la Mina, Cadiz
Destinations