Museo de Cadiz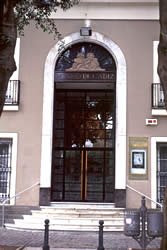 Fine Arts Museum
The archaeology museum on the ground floor is worth a look. Some excellent glassware and jewellery are highlights and there is a good collection of amphorae as you'd expect from an historic port.
The Fine Arts museum on the second floor includes a Rubens canvas and the pride of the collection is a set of canvasses by Zurbaran.
On the third floor there is allegedly a wonderful collection of puppets used for biting satirical plays.
Plaza de Mina
Open: Tues and Sun 9.30-2 pm
Price: 1.50 EUR
Tel: 956 21 22 81
Destinations