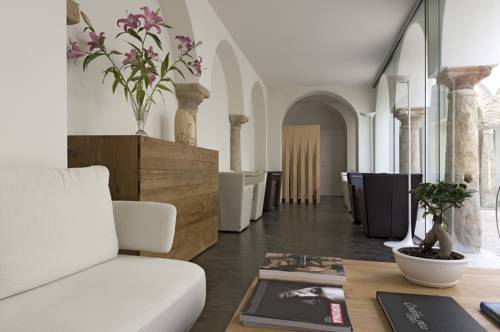 Hotel Viento 10

Hotel Viento 10
What's it like?
This family-run hotel, hidden away down a quiet street near the river (former name, Calle del Viento), has just seven slickly-designed rooms. Officially two-star rated, it's a converted 16th-century house which marries original architecture – stone columns, arcaded patios - with contemporary design – angular furniture, natural materials and neutral colours. The overall effect is one of calm and relaxation.
Rooms, all good-sized, are minimalist-contemporary with plain white walls and furniture, and splashes of colour in abstract paintings, with co-ordinated cushions and chairs. Wall-mounted TVs, free WIFI and pillow selection. Bathrooms have exposed brickwork and glass walls, but the rooms don't have windows, just roof lights.
Rooms, all of which are individually decorated, have satellite TV and computers with free internet access. One of the guest house's main attractions is that some rooms have their own private terraces or balconies, where breakfast can be served, while others have spa tubs.
Saunas and hot tub, with massages available, as well as a large, shaded roof terrace looking out over the tiled rooves. Breakfast is available, but there's no restaurant or bar as such, although you can order drinks for the lounge area, which opens onto the patio, or your room.
The Mezquita is about 10-15 minutes' walk away, and the hotel has its own car park..
How to get there
To get to the hotel, which is on Calle Ronquillo Briceño, take exit 400/401 off the A4/E5 motorway, go towards the city centre, then turn left onto Paseo de la Ribera. The hotel is on first street on the right.

Destinations