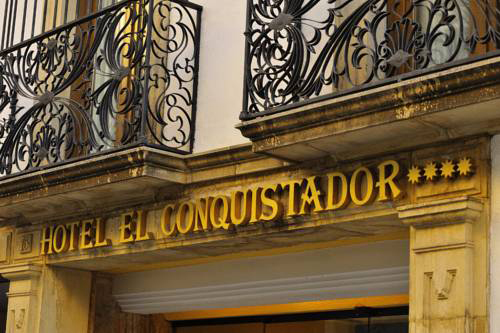 Hotel Exe Conquistador
Hotel Exe Conquistador
Hotel Conquistador is located in the Judería district of historic Cordoba, literally across the street from the Mezquita, with its own Mozarabic ruins.
What's it like?
The four-star hotel features a traditional, leafy arcaded Andalusian courtyard with cobblestone and bricks floor, where meals are served in fine weather, as well as a garden with wrought-iron benches surrounding a fountain, shaded by orange trees.
Rooms at the Conquistador – singles, doubles, triples and junior suites, 128 in total – are compact with simple furnishings: plain wooden headboards and marble floors, plus air-conditioning. All rooms include a satellite TV, safe and minibar, and there's free Wi-Fi throughout. The suites have with hydrotherapy baths and either courtyard or Mezquita views.
The hotel offers a restaurant, serving a varied buffet breakfast. There is also a bar with Arabic-style wooden furniture, and guests can enjoy drinks in the beautiful courtyard surrounded by gardens. Several patios offer cool spots to relax, with tinkling fountains home to resident turtles. Events for between 20 and 200 can be catered for, in space up to 275m2.
Conquistador Hotel is just five minutes' walk from the centre of Cordoba, a UNESCO World Heritage city. Cordoba Airport is approximately 7 km away, and the hotel has its own car park.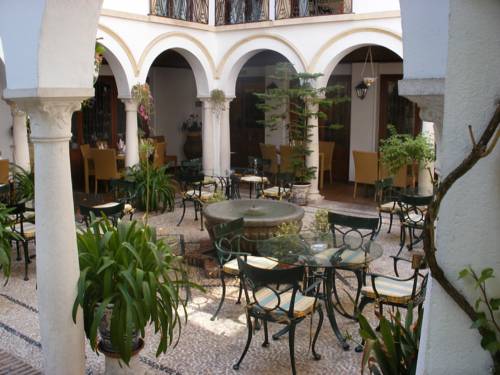 Hotel Exe Conquistador
What's its history?
History exists within the hotel, as well as just outside: in the Almanzor Room, one of the function rooms, are remains of stone walls dating from the 15th century – one of the three pre-prayer ablution pavilions belonging to the cathedral of Córdoba.
How to get there
The hotel is on Calle Magistral Gonzalez Frances, which is the street that runs alongside the eastern wall of the Mezquita (a couple of street north of the river, near the Puente Romano), halfway down – the exit of the Mezquita is almost opposite. If you're arriving by car, you'll have to stop at the control point for the Casco Antiguo (Old Centre) and say "Hotel Conquistador".
Destinations