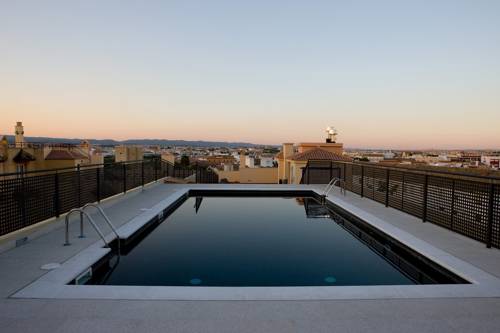 NH Hesperia Cordoba rooftop pool
NH Hesperia Cordoba
What's it like?
This four-star hotel is located on the river Guadalquivir, just across from the Mezquita. A short walk over the Roman Bridge will take to the old centre. A striking pink building with towers, its location on the riverbank allows it a feeling of space.
Rooms – there are 152 of them, over three floors – are furnished in a blend of traditional and contemporary style, with wooden floors, floral bedspreads and light-coloured marble bathrooms; some rooms have traditional tiling. There are doubles, twins and triples; superior rooms are larger, while those at the front offer city views; the river-facing junior suite is 56m2, with a bedroom, two bathrooms and a living room. All have satellite TV and free WIFI. Marble-floored function rooms accommodate groups for business events or parties, with all necessary facilities such as photocopiers and fax machines.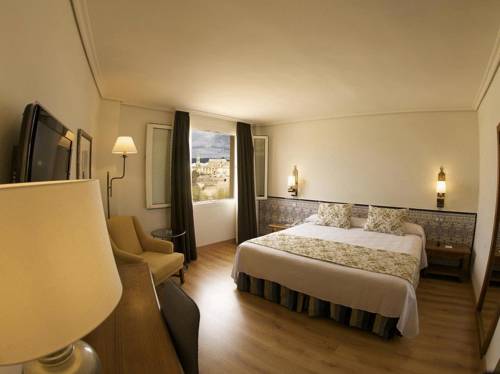 NH Hesperia Cordoba
The rooftop swimming pool (open May to September) offers spectacular vistas across the river to the city centre, including the Mezquita and Alcazar; there's also a bar up there. The restaurant/bar offers regional cuisine, with a terrace overlooking the river.
Both car access and parking are much easier than in the old centre; the hotel has its own car park, or alternatively you can park for free in the streets nearby.
How to get there
The hotel is located on Calle Fray Albino, on the banks of the river. You leave the A4/E5 motorway at Salida 400, 401 or 403 towards the city centre, then turn onto Avenida de Cadiz, which runs parallel to the street where the hotel is.
Destinations