Bedroom Palacio del Bailio
Palacio del Bailio
By Fiona Flores Watson
What's it like?
Part of the excellent Spanish Hospes group (they also have hotels in Granada and Sevilla), known for their sensitive conversions of period buildings, excellent food and first-class spas, this was the first five-star hotel in the historic centre of Cordoba. Located near the Plaza de Colon, the hotel offers modern comfort in a historic setting.
The décor of the rooms cleverly melds Moorish history and contemporary design: clean lines – simple furniture and neutral-coloured fabrics in fabrics such as velvet or leather, are accented by metallic cushions, allowing the original features to take centre stage. All of the 53 rooms and suites have wood or marble floors, flat-screen TV/DVD players and free WIFI; one of the suites, the old library, has 18th-century paintings depicting scenes from El Quijote, while the grand suite has a private lift and measures 76msq, with a long wall of windows. Restored artistic and architectural features of the building include beautiful, intricately carved wooden doors; original frescoes and paintings; vaulted or painted ceilings; and Mudejar horseshoe arches with stucco detailing.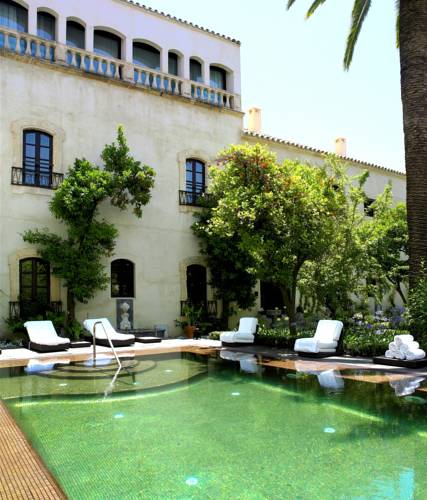 Outdoor pool Palacio del Bailio
Outside is a wonderful garden, with several courtyards; the warm, soothing stone buildings and pretty garden, with orange, lemon and palm trees and climbing jasmine, making a shady, relaxing oasis within the city; in summer, you can cool off in the outdoor swimming pool.
Food is Spanish/Moorish, with a tapas bar as well as a more formal restaurant – typical dishes include gazpachuelo de mariscos (shellfish stew) and bone marrow soup.
The spa has 2000-year-old Roman baths – three pools with different temperatures. Its treatments feature North African ingredients such as crème de rassoul and Moroccan black soap.
What's its history?
The palace was built on the remains of a Roman villa - whose archaeological ruins you can see through the glass floor of the dining room, floodlit at night - between the 16th and 18th centuries. It used to be owned by the Fernandez family, lords of Aguilar. In 1579 Pedro Núñez de Herrera, a bailio (bailiff) of the Order of St John, son of Alfonso de Aguilar, died in Africa with King Sebastian, and the house was then named after him. In the 18th century, it was sold to the Bishopric of Cordoba to house the San Jacinto hospital and Nuestra de los Dolores church. It has also been used as an administrative office for the Mail and headquarters of Public Works.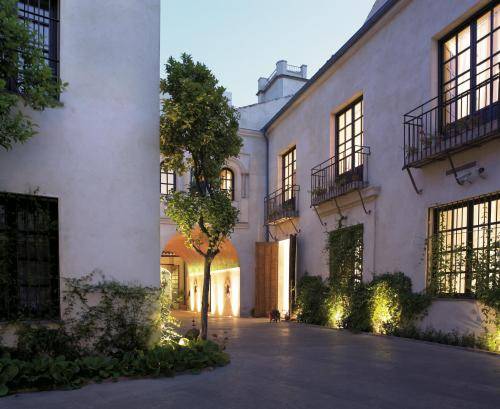 Palacio del Bailio
What is there to do?
You're ten minutes' walk from the Mezquita, one of Spain's most important monuments from the Moorish era, when literature, art and culture flourished in Cordoba; also worth visiting are the Plaza del Potro with its two museums and new flamenco centre; the Palacio de Viana, which has 10 patios, whose flower-filled beauty are one of Cordoba's most celebrated attractions; and the Roman bridge. Just outside the city is Medina Azahara, an abandoned 10th-century Moorish city.
Book Hotel Palacio del Bailio
How to get there
Cordoba is on the A4/E5 motorway north-east of Seville, and north of Malaga.  The hotel is in Calle Ramirez de las Casas Deza, near the Avenida de America.
Destinations