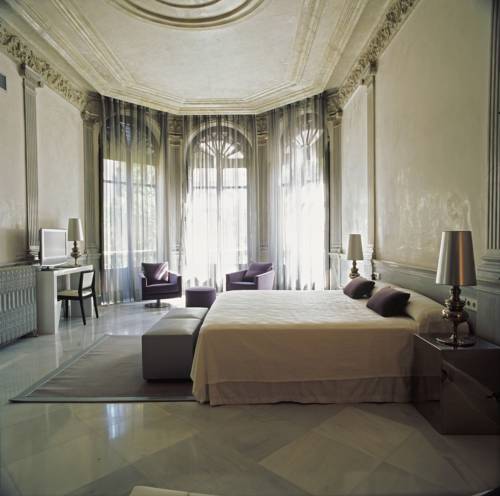 Deluxe bedroom in Palacio de los Patos Hotel
Palacio de los Patos
A 19th-century palace with a perfect blend of historic features and contemporary décor, plus an avant-garde wing of metal and glass.
This magnificent period building, which sits behind wrought-iron gates, is surrounded by its own garden complete with palm trees - an oasis in a busy city, overlooked by the Alhambra palace.
Décor is a mix of the palace's traditional features - coffered wood ceilings and tiles - and contemporary style: white walls and wooden floors with metallic accents: gold sinks with lamps moulded into them, silver chairs, and modern chandelier on the grand staircase.
The 37 bedrooms and five suites (20m2 to 70m2) all feature Egyptian cotton sheets, plasma TVs and DVD/CD players with libraries; rooms in the main building (35m2-70m2) are spacious and light with high ceilings, and some suites have mosaic tiled floors and frescoed ceilings. Those in the new wing are smaller, though equally bright, thanks to its wall-to-wall windows and glassed-in bathrooms. The two parts of the hotel are connected by a tunnel.

Palacio de los Patos, Granada
WIFI is available, for a fee, and the hotel has its own private car park.
Excellent food, exquisitely presented - breakfast has bijou yoghurt-and-fruit combinations in tiny glasses. Senzone restaurant, in the modern annexe, has a terrace, so you can enjoy an outdoor lunch or dinner. Local dishes include chopitos (baby squid) from Motril cooked alpujarreño style (with alioli, garlic and parsley).
What is its history?
The property was built in the late 1880s to celebrate a marriage between two of Granada's most prominent families. At that time, landowners, bankers, industrialists and politicians would build homes designed to show off their wealth and power. The Moreno Agrelas were aristocrats who owned sugar cane plantations and subsequently set up the Agrela bank, important in Granada's 19th-century economic development. The Count of Agrela was a friend of King Alfonso XIII, and he gave the King and Queen of Belgium land to build their own house in Motril.
The palace takes its name from a fountain at the entrance of the palace, adorned with two white swans (even though pato means duck).
Relax in the luxury Spa in Palacio de los Patos Hotel
What is there to do?
The basement spa in has an indoor thermal pool, with natural lighting from skylights, sauna and hammam (steam bath), and offers massages and treatments including wraps, scrubs and facials, as well as packages including all of these.
You can chill out on white day beds on a shady terrace, surrounded by flower beds.
But the reason everyone comes to Granada, of course, is the Alhambra. This fairytale pink-palace-on-a-hill was built 800 years ago by the Nasrid dynasty, who ruled the kingdom of Granada. It is Spain's most-visited monument, and one of the world's most beautiful and atmospheric, with its extraordinary plaster work full of Arabic symbols and messages, hidden courtyards, pools, and tales of love, betrayal and murder. Everyone should visit it once in their lifetime.
Book Hotel Palacio de los Patos
How do I get there?
Granada is on the A92 motorway from Almeria to Seville; from Malaga, takes the A45, the A359 and then the A92. Coming from Jaen and Castilla la Mancha, take the A44/E902, or from the coast, the A44.
Destinations