Terrace Casa Morisca
Casa Morisca
This three-star hotel was originally a morisco residence – Moors who stayed on after the Christian reconquest by the Catholic monarchs, Ferdinand and Isabella.
With just 14 rooms, the beautifully restored Granada house epitomises the intimate atmosphere of the Albaicin, with its narrow streets and centuries-old houses. The interior courtyard has a morisco pool which dates from when the house was first built.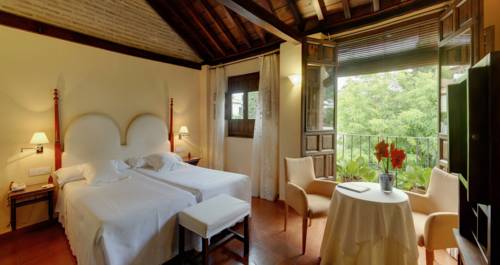 Casa Morisca
Some rooms still have their original wooden ceilings with intricate designs, as well as inlaid Moroccan wood armoires and carved tables; one has a coloured wood ceiling and jacuzzi. The best room is the Mirador, in the Torreon (tower), small but with panoramic views to the Alhambra and the rooves of the Albaicin. A few exterior rooms have balconies.
The breakfast room has a brickwork barrel vault.
Free WIFI
Original 500-year-old features
Free parking outside the hotel
Some rooms small and dark, but authentic
Perfect for: history fans - step back in time to Granada of old.
Destinations