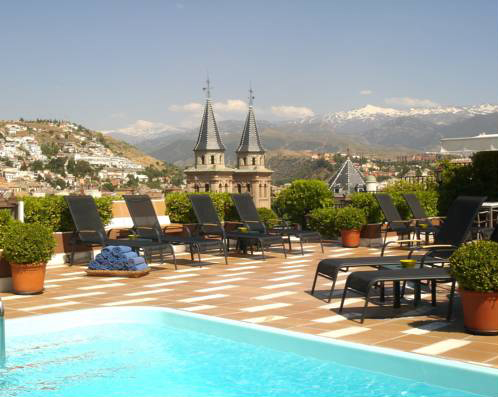 Rooftop terrace at the Hotel Carmen

Hotel Carmen
This four-star hotel is positioned on one of Granada's main boulevards, close to the shops and cathedral.
The 222 guest rooms have clean, unfussy, modern décor in muted tones accented by lamps, throws and cushions in bright reds and blues. The junior suites have their own private terraces. The reception is a vintage-contemporary mix of marble floors, leather sofas and glass tables.
The rooftop terrace has a small swimming pool – a rarity in Granada - with sunloungers, and a bar and restaurant with comfortable seating surrounded by plants, which lend it an exclusive garden feel. Ideal for hot summer nights, it offers views of the Alhambra.
As well as the restaurant, there's a "pub" which specialises in gin-tonics (currently very de moda in Spain) and a cafeteria. The hotel offers nine meeting rooms, measuring between 35 and 360m2, accommodating from 40 to 200 seated theatre-style, or 75 to 300 standing.
Another unusual but extremely welcome feature is a free-of-charge crèche, open on weekends and holidays. This supervised play area for children has a ball pit, tables and chairs for drawing and games, so parents can relax while their kids have fun in a safe environment.
One of Granada's only rooftop pools
Onsite crèche at weekends
Free WIFI
Snappy decor
Perfect for: swimmers and families

Destinations