Bedroom with stunning views Hotel Casa 1800

Casa 1800
Sister property of Seville's Casa 1800, this three-star hotel is located in the atmospheric hillside Moorish quarter below Granada's Nasrid palace. The hotel features a blend of period and contemporary: exposed brick walls and flagstone floors, with baroque furniture and tactile velvet cushions. Sometimes the effect is a touch glitzy-chintzy - gold headboards, ruched bed canopies, chandeliers, brocade-type fabrics. However the charming interior patio is more pleasing, with authentic dark-wood balustrades and stone pillars; the wall on one side is painted with murals.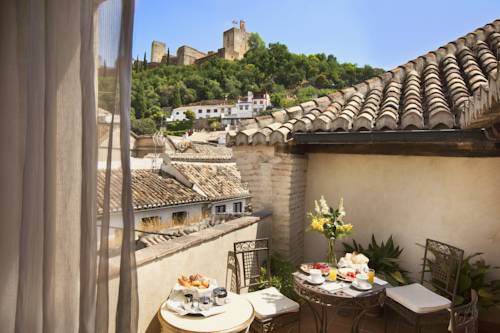 Sun terrace Hotel Casa 1800
With 25 rooms and suites, looking either inward onto the patio (can be dark, as windows small), or out to the Alhambra, some with original vaulted ceilings and four-posters. The restaurant has beautiful arched walls, and the bar offers 24-hour service.
free afternoon tea and cake
free WIFI
traditional patio
rooms a little small for the price
Perfect for: those who like their hotels luxe-glam with a historic edge.

Destinations