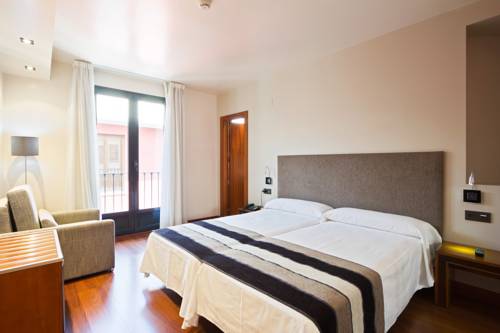 Monjas del Carmen, Granada

Monjas del Carmen
This popular three-star hotel is located on a quiet pedestrian street yet close to Plaza Nueva. In a period building, it offers just 33 rooms, all with flat-screen TV with satellite channels; some have balconies looking onto small, pretty squares. Rooms are soundproofed, essential in the city centre near so many bars. WIFI is available, for an extra charge.
The décor in the public areas is simple and classic, typifying the historic nature of the building, with traditional marble floors and heavy studded wooden doors, while also featuring contemporary touches (glass doors and balcony panels). The guest rooms feel more modern, with wood floors and pale, neutral bed linen giving them a bright, airy feel. The spacious restaurant, which serves Mediterranean food, has a terrace.
This hotel offers some of the best value in Granada city.
You can rent a bicycle or car from reception.
Funky décor
good value
extremely central
quiet rooms
Perfect for: those who prefer style at a good price.

Destinations