Alhambra Palace Hotel
Alhambra Palace
You can easily spot this five-star hotel, with its striking, ochre-coloured crenellated walls perched on the hill, from anywhere in Granada's old town. It is one of the closest hotels to the Alhambra, five minutes' walk away, while the city centre is also a short distance, just down the hill (though a steep climb with shopping bags or a full stomach).
The grand interior has marble pillars and floors, and intricate Moorish-themed plasterwork on its horseshoe-shaped arches, echoing that of the Alhambra palace itself. The 126 guest rooms offering traditional décor, with WIFI and plasma TVs, and bathrooms with original tiling. Most rooms and suites offers views over the city, the Alhambra forest, or the Sierra Nevada mountains – the upside of being located outside the centre – and some have balconies. The higher rooms are smaller, but with better views. There's an onsite cash machine, unusual for Spanish hotels, but handy since you're outside the city centre, and free parking.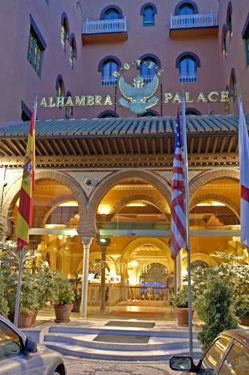 Alhambra Palace
The restaurant serves combines local gastronomy and produce - fish from the coast, and vegetables and fruit from nearby valleys – with modern techniques. For a cocktail or snack with a view, the long terrace bar, which runs all the way along the front of the hotel, offers a panorama in the city – perfect for an evening cocktail.
Four function rooms – three large ones (seating 120-200) and one small (seating 45) – are popular venues for social and business events; the Theatre Room has the best views.
Full-on Moorish décor is delightful for some, over-the-top for others
Stunning views from most rooms
Quieter than city centre hotels
Right next-door to the Alhambra
Perfect for: lovers of Moorish romance and bird's eye views
Book Hotel Alhambra Palace
location
Destinations