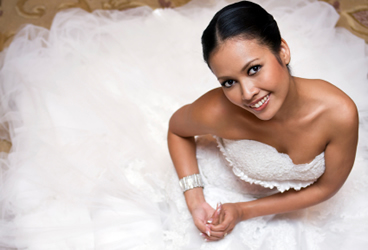 You have to feel comfortable and special on your wedding day, whether you want a sexy skin-tight sheath, a loose, bias-cut slip, or a formal, fitted gown. Andalucia has many home-grown wedding dress designers, if you want a made-to-measure traje de boda. Make sure you giving it plenty of thought: I and two girlfriends who were getting married started off swearing we weren't going to spend a fortune on our dresses, saying we'd economise and make do with a chainstore number; we all ended up getting our completely different) trajes from the same quirky, Seville-based designer – happy customers all round.
If you decide to go for a designer frock, be sure to allow at least three months from choosing your  model, to collecting the final finished article, including at least two fittings. Plus time to find the right dress.
If you want to have bridesmaids, be aware that they're not traditional in Spain.
You should buy your shoes once you've found the right dress, to make sure that it's exactly the right length with the heel height you've chosen.
And finally, your jewellery: pearls, diamante, or the family heirlooms? Tiaras, or headpieces, are very popular these days. Some brides prefer a simple flower or floral decoration in their hair. At the risk of stating the obvious, try it all on together before the big day, to make sure you're aunt bracelet won't snag on your dress, or the tiara won't fall off when you bend down to kiss a seated guest.
For men, major department stores offer tailcoat hire services.