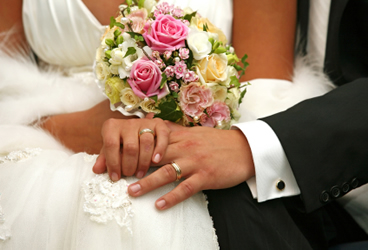 You will want your wedding venue, and the location for your meal, whether a hotel, restaurant, function room (sala de celebraciones) or private house, to be decorated to reflect your own personal taste.
Then you need to think about your own ramo (bouquet), which should reflect the blooms you choose to adorn your venue. You can go for traditional red roses with gypsofilia, aromatic peonies, exotic orchids or lilies; a posy or a trailing bouquet.
Once you have a date and a venue, you need to let your guests know, and with plenty of advance warning if they need to make travel and accommodation plans in addition: flights, hotels or self-catering. If your guests will be both Spanish and English, you could either print two versions of the invitation, or have one language on either side.
Similarly, in your order of service, if you have one, bear in mind that most English guests (if they're coming from the UK, rather than expats) probably won't understand Spanish; and older (especially) Spanish guests are unlikely to have a good command of English. So for all explanations, directions and speeches, try to have at least a part translation. This will make everyone feel included; it's so easy to end up feeling left out if you're already in a strange country.