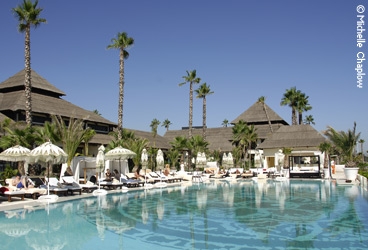 Laguna Village
Luxury shopping and designer brands are available from the Laguna beach village complex on the beach, east of the town centre near the Kimpinski Hotel.Luxury shopping and designer brands are available from the Laguna village complex, set on the beach, east of the town centre next to the Kimpinski Hotel.
The boutique complex is a place to visit rather than a shopping experience, however thare are a number of boutique designer shops in the tidy Bali styke complex.
Beach Clubs
The complex is mainly known for the Puro Beach beach club with large swimming pool and chill out music and sun beds, both bythe pool and on the beach.
There are two other beach areas Camuri restaurant has more reasonably priced sun beds and Claro Restaurant and Beach Club has and "Earthy Chic" style restaurant and cocktails on the Chill out Terrace.

Restaurants
There are about ten restaurant to choose from. These are:

Carmen
Amigos Grill
La Pappardella Sul Mar
Palapa
Terra Sana Express
Top Thai
and in the beach clubs there are restaurants as well.
Claro Beeach Club
Puro Beach Marbella.
Fashion Boutiques
La Boutique
Deha
Chilly
Dreamsgirl
Elle Morgan Boutique
Elle Morgan Beach
Enrico
Justy
Sonia Troyano
Saint Tropez
Viva La Moda

Other shops include
Newsagent, Real-estate, Dentist, Boats
PARKING
There is ample parking in the winter but in the summer the parking situation was impossible due to the number of people that visit the popular El Padron beach. In 2017 a barrier was introduced. There are now 51 free parking places in the entrance area and a barrier system operates in the summer for another 171 parking spaces. This offers free two hour parking. Over two hours the charge is 1.70€ per hour. There is also a hand car wash vallet service. The is also a Valet parking service in the high summer. There is also a 200 vehicle terrain parking area behind the Cruseo chiringuito on El Padron Beach.

The Malaga coastal path joined Laguna Village with the Kempinski Hotel by a bridge in 2016 so provides for a nice stroll from Laguna Village westwards, it continues on, with a small break, west to Estepona La Rada seafront and beyond.
Opening Hours
Restaurants 10.00 (summer) or 13.00 (winter) to 24.00
Shops 11.00 to 20.00
Location
Coast Road A-7 km 159