Puro Beach
By Morwenna Francis
Sadly Puro Beach and Laguna village complex was distroyed by fire on the afternoon of Saturday 29-08-2020.The bush fire started 500m away on the mountain side of the coast road in the area of the derilect amusement park called Prado world. It was atributed to an electric fault in a small house in which squatters had run a cable over the grassland 100m from another dwelling. A couple were arrested and later relaeased on bail. The strong wind carried burning embers over the coast road landed on the tile roof of Kimpinski Hotel and on the thatched roof of Laguna Village buildings. The thatch roof quickly caught fire and there being no tile supporting under-structure, quickly fell in a distroyed the interiors. The Estepona Mayor quickly declared Laguna Village will be reopened for Summer 2021. Demolition and cleaning up of the site was carried out in November 2020. Reconstruction work started in late September 2022 and the steel framed structure and roof was complete by June 2023.
Puro Beach club was located in the Laguna Village complex at Playa El Padron just east of the Kempinski Hotel and Estepona town. Updates on the reconstruction on the Laguna Village page.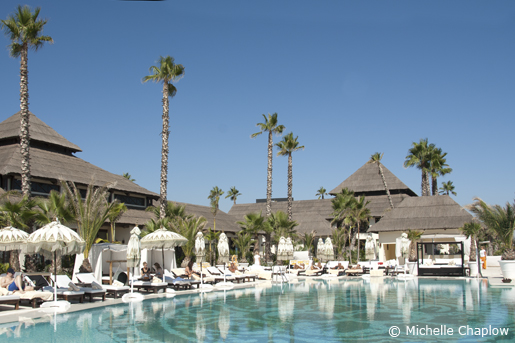 Puro Beach club as it was pre August 2020.
Destinations