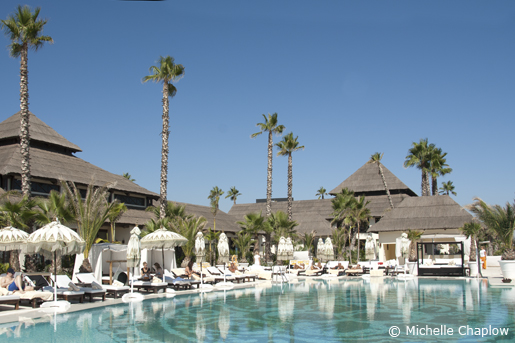 Chill out at Puro Beach
Puro Beach
By Morwenna Francis
Sadly the Laguna village complex was distroyed by fire on the afternoon of Saturday 29-08-2020. The bush fire started 500m away on the mountain side of the coast road in the area of the derilect amusement park called Prado world. It was atributed to an electric fault in a small house in which squatters had run a cable over the grassland 100m from another dwelling. A couple were arrested and later relaeased on bail. The strong wind carried burning embers over the coast road landed on the tile roof of Kimpinski Hotel and on the thatched roof of Laguna Village buildings. The thatch roof quickly caught fire and there being no tile supporting under-structure, quickly fell in a distroyed the interiors. The Estepona Mayor has declared Laguna Village will be reopened for Summer 2021. Demolition and cleaning up of the site was carried out in November 2020. Reconstruction work had not started by June 2021 and there has been no official anouncements.
Although named 'Puro Beach Marbella', this beach club is actually located further west along the coast in the Laguna Village complex at Playa El Padron just east of the Kempinski Hotel and Estepona town.
With views across to the Gibraltar Rock and the Moroccan Rif mountains, Puro Beach offers a distinctly laid-back atmosphere.
Spend the day relaxing on a sunbed on the beach, or next to the infinity pool, surrounded by palm trees, sipping a cocktail from the poolside bar. When it comes to food, guests can choose from an extensive fresh menu which focuses on seafood, fresh salads and Asian fusion cuisine. Puro Beach also offers the unique concept of Nomad TentsTM - tents covering half of a double sunbed and furnished with rich carpets, mirrors and a bench - and Nomad BedsTM, large sunbeds for 4-6 people.
Music wise, there is a full sound program that features a mix of resident and guest DJs and monthly live acts.
Additionally, the beach club provides all of the other necessities: free wireless internet; massage treatments; daily yoga at dawn; showers and changing rooms; and Kempinski Hotel's complimentary dinghy service for those travelling by sea.
Below is list of opening hours, numbers to contact and a video.
Contact
Puro Beach, Laguna Village
KM 159 Playa del Padrón
Ctra de Cádiz N340
29680 Estepona
Tel: +34 952 800 015
Opening Hours
April - June 11.00 - 19.00
June - Sep 11.00 - 02.00
15 Sep - April 11.00 - 18.00
Closed: Mondays & Tuesdays during Nov, Dec, Jan & Feb
Destinations