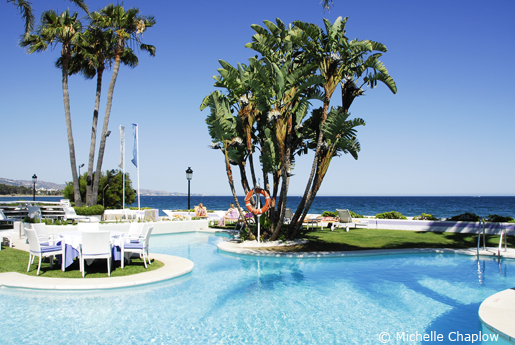 Relax by the pool at one of many beach clubs in and around Marbella.
Estepona Beach Clubs
Marbella is well known as the favourite destination in Andalucia amongst the international jet-set crowd and the very rich and famous. Estepona, next door to the west has not been forgotten.
Estepona has several beach clubs where you can spend the entire day lounging on a sunbed with a cocktail, followed by an evening of luxurious dining and finally dancing into the small hours at some of the best parties on the Costa del Sol.
Although there are many beach bars (chringuigtos) along the beaches of Andalucia, a Beach Club is something more. A Beach Club should have a swimming pool with sunbeds and be located next to a beach so that guests can enjoy the best of both worlds. Although they are called 'clubs', you don't have to be a member to spend the day by the pool. Some beach clubs there have an entrance fee, however for most you simply have to reserve a sunbed. Beach Clubs will usually charge a fee per sunbed, but will provide towels and water. They is always a cocktail bar and usually a restaurant serving at a terrace or by the pool.
Those Beach Clubs that do not belong to hotels are normally only open during the Summer season, from Easter until late September, but check the pages for individual opening times.
Listed below are all the principal beach clubs in Estepona. We have not included Restaurants by the beach nor beach bars with hammocks, music and entertainment nor beach style bars that are not adjacent to the beach.
Destinations