Estepona Shopping
Most of the shops are situated in the town centre on Calle Real or Calle Terraza. There is a wide variety, including boutiques, souvenir shops, delicatessens, stationers and bakeries.
Laguna Village
Luxury shopping and designer brands are available from the Laguna beach village complex on the beach, east of the town centre near the Kimpinski Hotel. Burned down in 2019, will be replace by a beach club complex.
ESTEPONA MARKETS
Tourist Markets -  Sunday Morning
Officially called 'Mercadillo del Puerto' in the Marina - Gifts, leather work, watches, costume jewellery, arts and crafts, presents, novelties, music CD's and tapes. This market has been established for 30 years and is very popular. From 09.00 to 14.00hrs. The adjacent bars and cafes of the port provide welcome relief for the weary. The numerous restaurants are popular for Sunday lunch. The traders white vans occupy the prime parking spaces in the port from dawn to dusk clearly should be forced to park elswhere. Entering the port by car on a Sunday morning is chaotic, We suggest the nearby parking that is always available behind the Bullring at the end of Calle Matias Prats.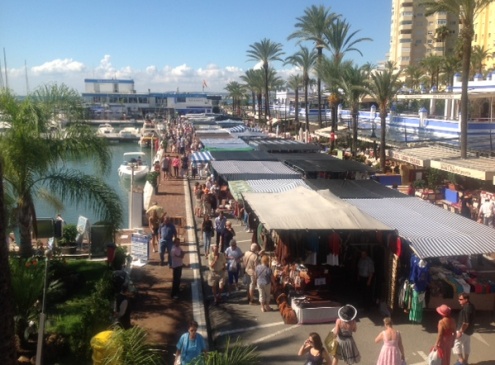 Estepona tourist market in the Marina
Car Boot Rastro -  Sunday Morning
Is in the Estepona Bullring Market in the old items, jewelery, book, old photographs, games, memorabilia, leather work, watches, arts and crafts, music CD's and video tapes. From 09.00 to 14.00hrs. Easy to visit if parking behind the bullring and visiting the marina
Mercadillo Ecologico y de Artesania
For thosse that want more on a Sunday there is also a craft market on a Sunday morning called Mercadillo Ecologico y de Artesania in Plaza ABC, just back from the Paseo Maritimo between the port and the old town where the old Portillo bus station used to be. Sunday 10.00 to 14.00 hrs.
Handicraft Market 
Mercadillo de Artesanía) every Saturday in Plaza Begines from 09.00 to 14.00hrs.
Town Market
Wednesday Morning 09.00 to 14.00 "El Rastro" is off the Avenida Puerta del Mar.  Actually Calle Eslovaquia, Calle Polonia and Calle Eslovenia  in the Parque de Los Niños area.This is the traditional town market that has taken place for 50 years although it has moved locations a few times due to housing developments and permanent feria grounds. Good for fresh fruit and vegetables, clothes and house wares available.
Covered Market
The Mercado de Abastos was closed in 2016 and opened after refurbisment as Gastro food market called Gastro Mercardo de San Luis. 
Poligono - Industrial Estate
The industrial estate is located to the west to the town. To reach here take the signposted junction from the bypass. This is where you can find auto repairs, wood yards, furniture makers, printers, marble suppliers and builders merchants. To reach here from the centre of town, take Avenida Juan Carlos and turn left at the top by the BP petrol station.
Larger Supermarkets
Carrefour on the Eastern Link road opposite the Palacio de Congresos.
Mercadona on the inner ring road Avenida del Andalucia, and on the A-7 just west of the town oposite Costa Natura.
Aldi on the A-7 just west of the town oposite Costa Natura.
Aldi Avenida Juan Carlos on large roundamout oposite BP petrol station.
Lidl on Avenida Puerto delMar opposite Rainbow steps.
Post Office
The main office is in the seafront promenade near the centre of the old town. The collection of parcels and "Lista de Correos" you will find at this main office to. A second office is on Calle Huerta Nueva in the 'Huerta Nueva' district west of the old town centre. 
Sunday Opening hours in Andalucia
Sunday Shopping Hours Costa del Sol and Costa de la Luz and Costa Almeria
Shopping centres are generally open from 10.00 to 22.00 hrs Monday to Saturday. They are also open for the same or slightly reduced hours on certain Sundays and Bank holidays.
Opening on Sunday and bank holidays for shopping centres and shops over 300 square metres is decreed by the Junta de Andalucia. Other shops that can open on Sundays are shops selling cakes and pastries, bread and ready meals, preparation and sale of churros, chips, nuts and sweets, newspapers, florists and plants. Shops selling cultural and sporting products located inside museums or cultural or sporting establishments can open. Also Petrol stations and shops designated as 'convenience stores'. Also shops in train and bus stations and airports and sea ports.
Sunday and Bank Holidays shopping Costa del Sol and other Costas
Any town that the Junta de Andalucia has designated 'Area of great Tourist Influence' can open additional Sundays. In general coastal resort towns can open Sundays and holidays in June, July, August, September and December. This applies to summer Sunday opening in Costal del Sol towns; Malaga city, Marbella, Fuengirola, Estepona, Benalmádena, Torremolinos, Nerja, Rincón de la Victoria, Mijas and Manilva and Costa de la Luz and Costa Almeria resorts. The historic city centres of Almeria, Granada, Seville Cordoba and Jerez de la Frontera can open Sundays and holidays in Easter week.
Opening Sundays and Bank Holidays on Costa del Sol and other Costas in 2022:
January 2nd and 9th
February 27th
March none
April 10th (Palm Sunday) 14th (Easter Thursday) 15th (Good Friday) 17th (Easter Sunday)
May 2nd
June every Sunday open
July every Sunday open
August every Sunday open plus holiday on 15th
September every Sunday open
October none
November 1st and 27th
December 4th and 8th and 11th and 18th and 26th
Opening Sundays and Bank Holidays on Costa del Sol and other Costas in 2023:
January 2nd and 8th
February none
March none
April 2nd (Palm Sunday) 6th (Easter Thursday) 7th (Good Friday) 9th (Easter Sunday)
May 2nd
June every Sunday open
July every Sunday open
August every Sunday open plus holiday on 15th
September every Sunday open
October 12th
November 1st and 26th
December 3th and 8th and 10th and 17th and 24th and 31st
Destinations