Estepona Marina
The Estepona Marina is situated at the west end of the seafront promenade. This is a very pleasant place for a stroll and there are some magnificent boats moored here. There are also a wide variety of excellent bars and restaurants, open both midday and in the evening while younger revelers can enjoy the late night disco bars. There is a popular tourist market here on a Sunday morning.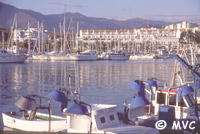 Latitude: 36* 24'N - Longitude: 5*09'W - Radio VHF: CH9 & 16
Harbour Entrance width: 80m depth: 5m
443 Moorings 8 - 35m long, 1.5 - 4m deep
BARS, restaurants, and Nightlife
After midnight (especially in the summer season) the port comes alive. Numerous music bars clubs and discos seem to materialise from nowhere. Most of them cater for the young and energetic. Young and old dancing the both contemporary hits and traditional Andalucían Sevillana well into the early hours of the morning.
Renaldo's on the corner is a favourite meeting place. "Louie Louie" is the home to live bands and after hours DJ sessions. There are some very good tapas bars including "La Taberna". Gastro Bars include Vica Versa and De la Mar. Restaurants of note include Petit Paris.
However if you are looking for an authentic no frills restuarant "La Escollera" is the place. Founded 1940, no reservations taken, form a disorderly queue and add your name to the list. Have a drink while you await you name to be called when becomes available. Open 13.00 to 16.00ish and 20.00 to 23.30ish. Closed Mondays. Located in the fishing port by the 'Lonja' (fish dock).
See the Nightlife, Restaurant and Cafes and Bars section which includes the establishments in the Marina.
Fishing Port
The fishing port is located to the west of the marina. Here you can watch the fishing boats land their catch. This can take place throughout the day, but is generally during the early morning, mid afternoon, and late at night. It is not possible to buy fish but you can watch the auction process (as long as you don't get in the way) which is followed by the covering of the fish pallets with ice and loading them into the insulated vans for distribution to local suppliers.
The large and small fishing boats are located in the fishing port adjacent (east) to the marina. Watch the catch landed, iced, sold and transported away. Notice the fisherman's lock - ups where they store materials, mend nets and have family parties. Excellent fish restaurant "La Escollera" (see above) located here.
Destinations