Estepona Nightlife
Estepona offers numerous bars with music in the town centre. Here is a guide to a wide array of venues, ranging from those open during the day and on into evening to the latest of the late night clubs.
accommodation
Search for hostals and hostels in Estepona and stay in the heart of the action. More >
Town Bars (calle real)
The bars in the town are generally less expensive as they are geared to a local crowd as opposed to tourists. This is a great area to visit to see something different, including more than one positively unique bar.
Tolone
This very nice establishment is less of a bar more of a cocktail lounge. It is located at the very end of Calle Real away from the port. Tolone specialises in speciality cocktails, milkshakes, coffee, and teas. This is for all ages and the atmosphere allows everyone to mix quite easily. The bar itself is really small so most of the tables are outside. This is not only great in the summer, but also in winter, thanks to heaters. This place is very popular so you can often find that you can't get in, but it's well worth the try for the very reasonably priced, fancy drinks. We recommend the alcoholic coffees and milkshakes not readily available elsewhere. They also do snacks such as nachos and cheese and hot sandwiches, also excellent.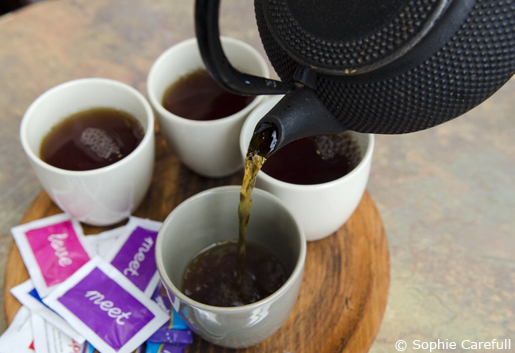 Tolone has a wide variety of teas as well as milkshakes, cocktails and snacks.
Arrive time: Day time and before a night out
Bar Caleu
This bar on Real street (calle Real) is right next to Tolone and is split into two buildings. One is a lounge cocktail bar and is slightly sophisticated, whereas the other is an American/irish themed bar, smaller and quite different. Bar Caleu is spread out over three floors in an intriguing layout. This is very much an early bar for some drinks in an environment where you can talk. It's surprisingly inexpensive with Spanish music and staff who speak both English and Spanish.
Arrive time: 10pm
Port / Marina Bars with music
The port is a good 10/15 mins walk away from the centre of town but once you get there you will find everything you need for a good night. The port is literally a big cluster of bars, lounges, coffee shops, ice cream parlours, restaurants, early and late nightclubs. You can literally enter the port at 8pm and be entertained until 7am (tried and tested!).
Louie Louie
Rock music bar located in Edificio PuertoSol, in Estepona Marina, near to O' Donoghues Irish Pub. Opened in 2013. (Previous bars here were La Bomba, Ebola, Comic & Doñana in early 1990s) Regular Spanish bands perform, typically from Malaga, Sevilla and Northern Spain, and often renowned bands from the UK, US and Australia who are undertaking European tours - a great feat for a small venue. Typically a haunt for heavy rock or blues bands. Regular Saturday night early shift performers include English session music veterans the KP Band. Opens nightly (except Mondays) at different times depending on performances, usually from 21.00 hrs, bands are billed to start from 10.30 to 00.00 but frequently start an hour late. Entrance free, except when when bands are playing; this varies from 1€ (local band) to 12€ or even 20€ depending on the band.  Popular cult bar with a friendly atmosphere created by diverse clientele.   This 'temple of rock' is rated by many as best Rock bar on the Costa del Sol. It is certainly unique for Andalucia.  Reasonable bar prices. Once inside one would be forgiven for thinking you were in Los Angeles, the bar staff speak very good English. Check out forthcoming bands on stage. 
Arrive time: dependant on set, but Louie Louie´s is a good spot to kick off a night at midnight. Outdoor terrace added Summer 2020.
O'Donoghues Irish Pub
Located next to the supermarket "OpenCor". This is a nice bar to start your night, but you can happily stay all night (O'Donoghues closes at around 5 am in summer). This is one of the bigger bars in the Estepona port and serves a wide variety of drinks. The bar staff are very friendly with an atmosphere to match. Sometimes there is a band providing live music on a Thursday.
Arrive time: 10pm - 2am
Reinaldo
Reinaldo´s is a Spanish bar opened by a dutch biker in 1989 (who sadly died 2004) which serves coffee during the day, cocktails in the evenings and drinks until the early hours. It a popular meeting place at the entrance to the Marina. Reinaldo bar does not have a dance floor but their eclectic selection of music gets everyone moving. There is no entry charge and it is better known for the external terrace and outside bar with a more casual atmosphere. It is always busy and has great views across the port. They famously host three different "Happy Hours" throughout the night. Perfect for drinks with friends, a pre dinner aperitif or kickstarting a night on the town.
Arrival Time 8pm
El Duende
This is a trendy, very Spanish flamenco bar with mostly Spanish music. It is reasonably priced with lots of space, including two floors and patio. Located opposite Reinaldo's. On Saturday nights it is Ladies' Night at El Duende when ladies have free entrance and men pay 10€ to get in. This is both a bar and an "early" night club. Under the arch La Esquina de Duende' serves drinks on the terrace.
Arrive time: 1am
Mykonos Music Club
This stylish bar also doubles as a disco. There is a dancefloor inside with plenty of banquette seating surrounding it, outside there is a chich and modern terrace with sofa seating, ambient lighting and farolas (lanterns). Venue opened as La Pepa in 2012 and was early popular on social media. Closed in 2017 and reopened as Mykonos Music club in 2018.
Arrive time: 10pm
Jazz Pub
Located under at the blue and white Torre de Control. Large terrace and popular in summer when there is likely to be singer and keyboard. Sit down atmosphers suites slightly older tourists.
Arrive time: 8pm
Nightclubs
In the port, there music bars as "early nightclubs" as mentioned above, such as Louis Louis,  Mykonos Music Club. Duende. These venues feature music and dancing and perhaps visiting bands on Saturday or Thursday nights. You will not find these bars busy until after midninght. Some will stay open in the summer until 5am.
Flamenco
Peña Flamenca de Estepona
The old flamenco social club in the centre of Estepona town. Fortnightly Friday night Gala. Entrance 15€, Dinner as menu, about 15€ pp. More>
MiCaseta
Permanent Caseta in the Estepona Feria Ground. Flamenco show in Friday nights in the Summer. Entrance 60€ pp including bottle Manzanilla and optional special bus transfer from hotels east of Estepona. Set dinner 35€
Destinations