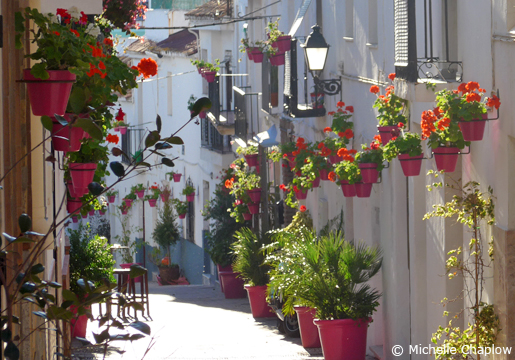 Estepona's winding streets are bursting with colour thanks to their lovely flowerpots.
A suggested walk around the old town
Park the car in the underground car park under the seafront promenade and walk through to the pedestrianised Calle Real. Where this road crosses Calle Terraza is a good starting point.
Red Geraniums in Estepona's charming old town.
Have a look at the shops on Calle Terraza and pedestrianised Calle Real, and stop in at one of the traditional bars on Calle Caridad for an ice-cold fino (sherry) and tapa.
Walk up to the attractive Plaza de las Flores. On one side is the historic building Casa de las Tejerinas (previously Casa de la Cultura).

Walk west to view the Clock Tower, the municipal market, the old town hall for the Archeological Museum, and the Castle of San Luis.
Wander arround the many pedestrianised streets that have been beautifully styled and decorated with plant pots and hanging baskets. Ideal for photographs. 
Andalucia.com, the most highly visited and longest established website about southern Spain, celebrated its 20th anniversary on 17th April 2016. The anniversary was marked by a 'Treasure Hunt' in Estepona and Casares.  We would like to share the questions with you. Have a go at the Andalucia.com treasure hunt in Estepona old town.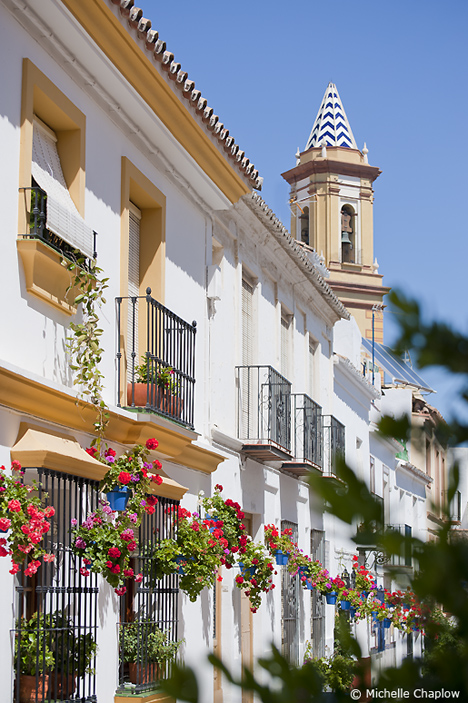 Old world charm, in the historic quarter of Estepona.
Destinations