Sin Memoria No Hay Historia mural © Marianne Hill
ESTEPONA MURALs - Sin Memoria No Hay Historia
Sin Memoria No Hay Historia  -  (Without Memory There Is No History) 
Located in Barriada Solis and inaugurated on 24 June 2015 this mural covers two walls on either side of a street facing onto Calle Dos de Mayo. Each mural measures 7x5 m2. The neighbourhood has its origins in fishing and the artist, Joaquín Aguilera, wanted to pay tribute to this. One of the murals shows the fishermen pulling their boat out of the water and the fishermen depicted within it are actual people from the neighbourhood who worked on the sea during the last century. Furthermore the mural features el boliche, a now unused method of fishing using the el boliche net. The other mural portrays a scene of life on Calle Dos de Mayo.
.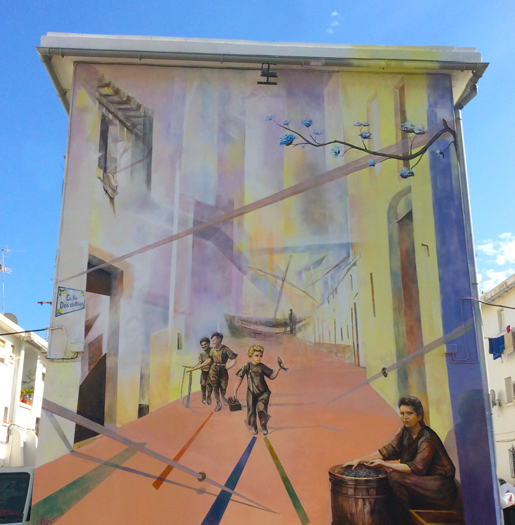 Sin Memoria No Hay Historia mural © Marianne Hill
Take me back to the Estepona Murals home page.