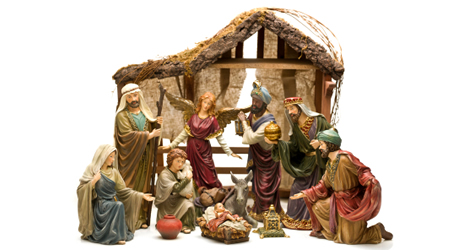 Almost every Spanish home has a navitity scene in pride of place at Christmas.
5 Fascinating Facts about Christmas
Fascinating Facts home | Fact 1 | Fact 2 | Fact 3 | Fact 4 | Fact 5
BABY JESUS IN A MANGER
BELEN (NOT ESTEBAN): The holy family, the animals, the shepherds - and the man having a poop
Many schools, offices, shops and home have a belen (nativity scene, literally Bethlehem; sometimes they do indeed have the entire town), still an important aspect of Christmas festivities in Andalucia. They feature animals (from the traditional oxen, donkeys and camels, to cows, sheep, goats, pigs, chickens, ducks, geese and dogs); Reyes Magos (Magi); angels; shepherds, farmers, artisans; houses in various different styles: rivers, bridges, ponds and wells; palm trees and other vegetation; and, at the centre, the stable, manger (pesebre), Mary, Joseph and baby Jesus; and not forgetting, of course, caganer (a man squatting to relieve himself). The more contemporary belenes may also include current newsworthy figures (Belen Esteban?). Even better, take the kids to see a live nativity scene, called a belen viviente, complete with animals; the town of Beas in Huelva has an excellent one.