Golf Properties in Andalucia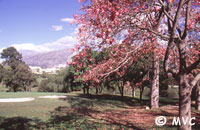 Las Brisas, Marbella
There are nearly sixty golf courses in Andalucía, of which thirty are on the Costa del Sol. The fine weather allows golf to be popular all year round.
It is a well-known fact that the property market is booming in Andalucía, in particular on the Costa del Sol - or Costa del Golf, as it is increasingly known.
One area of real-estate which has witnessed extraordinary growth is that of golf properties. These tend to be of exceptional quality with all the advantages that you would expect considering the prime location.
One of the most appealing features of a golf property is the fact that you are essentially guaranteed your own 'green belt', something which is increasingly hard to depend on with new properties elsewhere on the coast. If you are a golfer, better still! Imagine the convenience of being able to drive your golf buggy directly to the golf course, saving time and inconvenience.
For many golf property owners, the fact that they are part of a community is similarly important, with a clubhouse close at hand, as well a variety of other desirable facilities. In short, golf properties are 'a hole in one' when it comes to quality of lifestyle.