Golf Hotels for holidays in Andalucia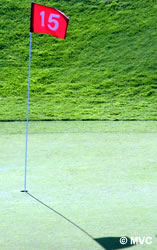 Golfer's Paradise
Andalucia is an excellent destination for a golfing break or holiday, with over 100 golf courses in Andalucia. 
The Hotels are of a very high standard, with all the facilities you'd expect, considering their prime location. There is a clubhouse close at hand, with a shop selling the latest high-tech equipment, fashions and accessories, golf pros on hand, a bar and everything you need for a great golfing holiday.
Facilities which your hotel will include are a swimming pool, whether indoor, outdoor or both and gym, equally useful whether you want to burn some serious calories or take a little gentle exercise; afterwards, let your muscles relax and be soothed in the sauna or Jacuzzi; then take time out to relax in the gardens.
Anywhere on the Costa del Sol could be described as a Golf Hotel but below are some suggestions for
Hotels that are located within a short walk or buggy ride from the hotel to the Golf Club house.
The following golf hotels are selected from our affiliate partners.
HOTELS LOCATED ON THE GOLF COURSE in ANDALUCIA
Book golf hotels
Golf increases in popularity year on year. An ideal combination of the mild climate, with year-round fine weather and sunshine, and beautiful locations, whether seaside or inland, makes Andalucia the favourite golfing holiday destination for many people. In fact, the Costa del Sol is the most popular golf destination for European golfers, and is increasingly known as the Costa del Golf. It boasts a staggering 40 courses within 100 km, many of which are in and around the glamorous resort of Marbella. Other areas of Andalucia which are well supplied with golf courses are the Costa de la Luz and the Costa Almeria.
Many people who come to Andalucia for a golfing holiday like to stay in a Hotel on or near the golf course, to minimise transport hassle when you set off from your room for a round of golf. You may even be able to rent a golf buggy to take you directly to the course, saving you even more time. And, of course, having your accommodation next to the golf course means you can make the most of the stunning, peaceful views of the beautifully maintained lush green fairways and, if you're on a links course, of the sea.