Rural Hotels
This page details various Rural Hotels, Guesthouses and Bed & Breakfasts in the villages and countryside of Andalucia. Ideal for an 'away from it all break', this section offers a list of rural accommodation as well as links to other pages of specific inland hotels.
Whatever your choice, these rural hotels will definitely help you to 'get away from it all'.
For Rural Holiday Rentals in Andalucia visit our Rural Rentals page.
For Rural Parador Hotels check our Rural Parador Hotels page.
Hihhtlighted Rural Hotels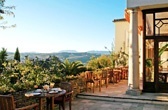 Stylish luxury country hotel located between olive and pistachio-groves just outside Ronda. This hotel features a superb restaurant with fine and informal dining. Many ingredients are locally sourced.
An ultra cool hideout for those in the know. Mix film set with rustic charm and luxurious glamour. Renowned restaurant, modern world cooking. Located near Riofrio in Montes de Malaga.
Rural Hotels in Andalucia
Book Rural Hotels in Andalucia