Hotels in historic buildings in Andalucia
Hotels in historic buildings in Andalucia are modern or traditional hotels housed in restored historic buildings. In the centre of Andalucian towns and villages, you will find beautiful 18th-century 'señorial' houses, or casa-palacios (mansions), which have been converted into hotels of great charm and character. 
Many hotels in historic buildings feature Roman or Moorish artefacts or constructions discovered during restoration works. Some hotels buildings have been reconstructed on Moorish foundations, while others are built onto walls which used to be part of the medieval town or village's defensive muralla.  
In most cases, the main building structure is more recent, and establishing the dates of previous reconstructions is difficult, without doubt each hotel has their own individual charm.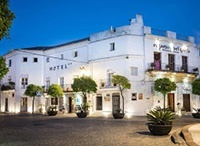 Vejer's landmark hotel, which since its founding in 2001 has become a favourite place to stay in Andalucia for travellers and Spaniards alike. The Califa's origins date back to the 10th century. An ideal place from which to explore the Atlantic Costa de la Luz and the 'Sierras' of Cádiz.
Book hotels in Historic Buildings
Historic hotels in Andalucia
The grande dame hotels of Andalucia, with their iconic names and brands, offer an unmissable opportunity to experience the heritage of this beautiful and fascinating region, which breathes Moorish and Christian history.
When you walk through the doors of a historic hotel, you can almost sense the centuries of significant events its walls have witnessed. These very special properties, often with superb location, unique architecture and intriguing original features, are prized for their illustrious guests past and present, their fascinating stories, and all-important heritage in the context of their local environment.
The historic building may be a restoration, or even a complete rebuild using the original footprint and keeping the facade. Andalucia.com - like famoushotels.org - designates 50 years as a cut-off for inclusion in our list of historic hotels in Andalucia. More>